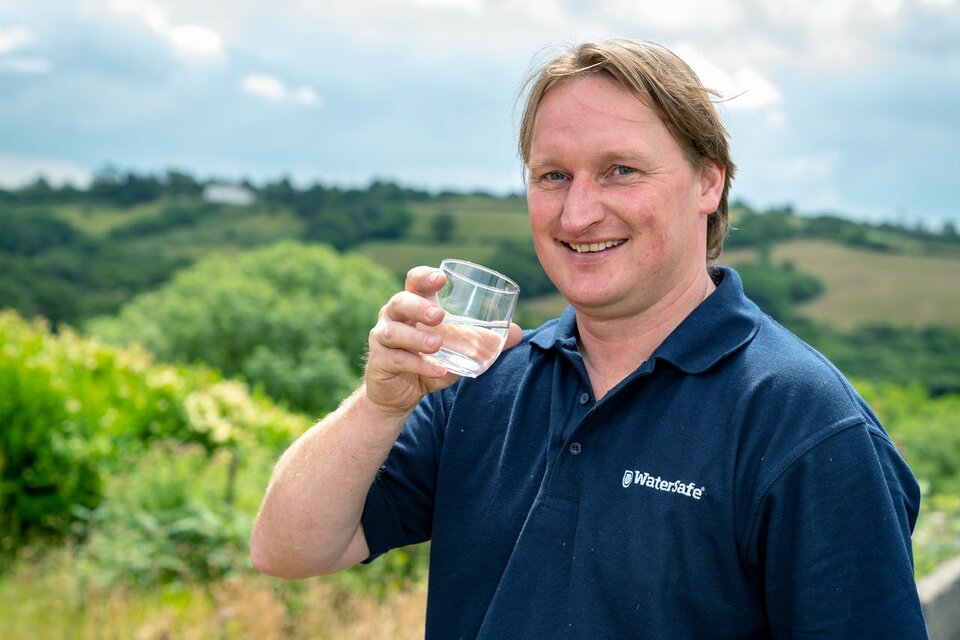 WaterSafe-approved Paul Williams has the distinction of being one of the youngest Presidents of the Chartered Institute of Plumbing and Heating Engineering in the Institute's 113-year history. He is also a trained Professional Standards Inspector and attained Master Plumber status in 2006.
Fancy being a WaterSafe profiled plumber? Drop us an email at watersafe@create51.com.
––––––––––––––––––––––––––––––––––––––
What got you started in the plumbing industry?
My father is a plumber so from an early age I was helping (hindering) him whenever I could – I used to recycle the materials for my pocket money! When I was 15, I started going in on weekends to work. I left school after my GCSEs and enrolled on a plumbing course at a local technical college. That was over 25 years ago and I'm still enjoying the job.
Describe a typical day in your working life.
A typical day would start before 6am to get some paperwork done – either estimates, invoices, ordering materials or catching up on emails. Then, get the children ready for school, drop the youngest off and head for the first job – I'll usually be with my first customer before 9am. More often than not, I am on a contract all day but I can spend time traveling between appointments too. The work day usually finishes with calls and plans for future commitments until 4.30pm and then it's back to being a dad and distributing children to their various activities.
What's the best bit of the job for you?
There are so many good parts but the main one is the sense of satisfaction after a contract is completed and somebody's problem has been resolved. It can be as simple as getting the heating on; unblocking a drain or the end of a commercial site contract – the feeling is the same. Just being there for my customers and getting good feedback is an amazing feeling. Being proud of my occupation and, when I stand back and look at the work I've produced, being satisfied it meets the high standards I set myself.
What's the job you're most proud of?
There have been many jobs I've done over the years I'm proud of, from bathrooms that I've installed to unblocking a WC for an elderly woman on a cold October night – they all have helped me become a more experienced plumber.
My stand-out one is a bathroom – we'd done many jobs in the customer's house: two other bathrooms; a cloakroom; boiler; radiators and unvented cylinder. The en-suite for their bathroom was meant to be a simple black/white floor-to-ceiling tiling and bath, shower, WC, basin and bidet. However, after some time on the contract the bathroom was lifeless, the tiles seemed to zap your energy levels as soon as you entered the room. It was dull and dark. After a meeting with the customer, we came to a decision to change the tiles and revamp the room completely and it went from the worst bathroom I've installed to probably being my favourite. The relationship with that customer was so good that he embraced my role of professional advisor and benefitted greatly from doing so.
I can't leave this question without mentioning my pride at being nominated and then elected as National President of the Chartered Institute of Plumbing and Heating Engineering (CIPHE) in 2016 at just 39 years old.
Can you bust a popular myth about plumbing/plumbers?
We almost never use a monkey wrench.
Do you have any advice for young people entering the industry?
The advice that I would give anyone entering the industry is to read instructions and seek advice as you are now entering an industry in which you will never stop learning. I've been in the industry for over 26 years and I still learn something new every day. This industry is full of innovation, in products and practices, so Continuing Professional Development (CPD) is essential. If you only trade on the things you learnt at college and as an apprentice you are standing still. Secondly, when you buy tools, get quality and they will last. And finally, set your standards and keep improving them, listen to your customers and as you are a guest in their property, respect it.
What does being a member of WaterSafe mean to you?
Being part of WaterSafe has been great for my business. It's a transparent way for the public to know that I am certified and hold the relevant qualifications and insurances. I get frequent calls from the public who have used the search facility and found my company details and this has been good for business over the past years.
What are your plans for the future?
To get my new company, Albert Williams Ltd, established and to develop a steady customer base, build on the strength of my reputation and to improve the business with its online presence via the company website, online appointments etc. Continuing to work with the CIPHE on working groups that will help us improve the technical standards within the industry. I have been working with them for some time on their Water Safety Group and currently chair an Installer Focus Group too.
Quick-fire questions
Name three qualities that make a great plumber: Patience, listening (to both system and customer), knowledge through study.
Best way to unwind after a hard day's work? I do like a pint after work but have started back at the gym and that's better for unwinding.
Tea or coffee? Both! Tea at home and coffee in work normally.
Fish & chips or curry? I am 10 minutes from the sea … fish and chips.
Plastic pipe or copper pipe? Copper, but do use both. Each has its place.
Early bird or night owl? Early bird.
Twitter or Facebook? Any social media accounts you recommend for the industry? I use both. Facebook socially and customer facing and Twitter for other plumbers. I suppose I mainly use Twitter as there is a great community on there but have been told increasingly that Instagram is good for showing off work etc. On Twitter there are many good accounts to follow including @pbplumber and @irbheating, plumbing media of course – @installermag; @hvpmag; @phpi; @hpmmag; @HVN_Plus; @PHAMNews and every Tuesday night between 8 and 9 @tradestalk is great to join in with. Finally of course the @ciphe twitter feed is good.
Self-employed or part of a team? Self-employed but working with a good team is great.
Pipework or paperwork? Pipework every day of the week. Paperwork a necessary evil…
Pipe wrench v spanner? Spanner.