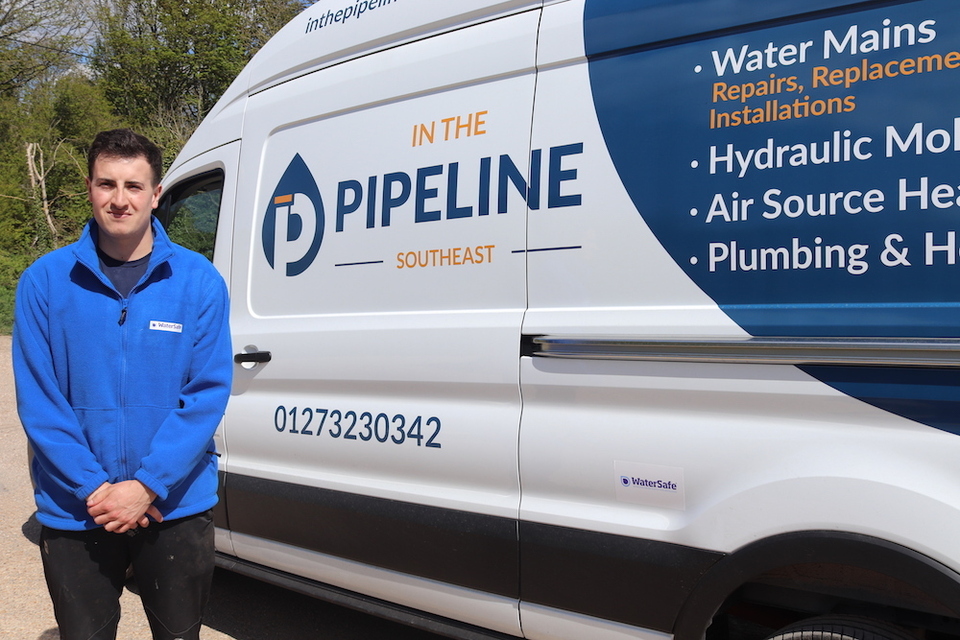 Meet WaterSafe approved water supply pipe installer Braden Dawes of In the Pipeline (Southeast) Ltd, one of the stars of our latest film. Braden talks about when you might need to hire a water supply pipe installer and the job he's most proud of.
---
What got you started as a water supply pipe installer?
I started off by just doing the internal connections for water mains for my dad's company. I then picked up the skills of the external water supply pipe installers by watching and learning and having a go myself, under supervision until I was fully trained and approved.
I have been working as a water supply pipe installer (also known as groundworker) for around four years. I have the following qualifications: NVQ level 2 plumbing; construction and the built environment level 1 and NRSWA street works. I also have an EUSR national water hygiene qualification and am a member of WaterSafe via the Approved Contractor Scheme WIAPS.
Our business In the Pipeline Ltd mainly works on water supply pipes and hydraulic moling.
What is the difference between an approved plumber and an approved water supply pipe installer?
An approved plumber will usually work inside the house on bathrooms and heating jobs and is approved for all types of plumbing work. A water supply pipe installer will work outside the property on the underground pipe that carries water to a property from the water main in the street.
When might someone need to engage a water supply pipe installer?
When they have a leak on their water supply pipe underground, lead water supply pipes that need replacing, poor flow entering the property at their internal stopcock or when they want to increase their pipe size for a new boiler upgrade.
What are the advantages of engaging a water supply pipe installer instead of a plumber?
Expertise and knowledge on underground pipework and the right equipment to carry out the job efficiently and effectively.
Please describe a typical day in your working life.
Firstly, we will arrive onsite and do a risk assessment of the area and workspace. We will speak to the customer and inform them of the work we are about to do and make sure they are happy and understand what is going on.
We then carry out the work and install a new water supply pipe by using our hydraulic mole. Once the pipe is in the ground, we will then work with the local water company to connect to the mains supply and check everything is working correctly. We then reinstate all holes back to their original condition and leave the site clean and tidy.
What's the best bit of the job for you?
Working outdoors and being active. I also enjoy the variety of working in many different places in a week.
How has Covid-19 affected your work?
It hasn't affected us too much, but we do now always take precautions when around customers to keep them and our workforce safe.
What's the job you're most proud of?
I once moled under a brand new resin driveway around 12 meters from hole to hole, which saved a very happy customer from having to dig up his driveway as he had a very bad leak.
Do you have any advice for young people entering the industry?
Do it, it's very enjoyable and rewarding, but hard work. It's great to learn a specialist skill.
What does being a member of WaterSafe mean to you?
It's an honour to be recognised by a trusted water industry backed scheme, as we always want to work with the correct accreditations to work safely for our customers.
What was it like taking part in the WaterSafe film?
A bit scary, as I hadn't done anything like it before in front of cameras, but the team were very helpful and made it a lot easier. I'm hoping it'll reach the right audience and get people thinking about using an approved contractor for specialist jobs.
What are your plans for the future?
To grow the business – but do it in a way that would be more sustainable for the world, for example, by using electric vans.
Quick-fire questions
Name three qualities that make a great water supply pipe installer: Hard working, team player and a good communicator.

Best way to unwind after a hard day's work? A beer and a soak in the bath to relax.

Tea or coffee? Tea

Fish and chips or curry? Curry

Early bird or night owl? Early bird

Twitter or Facebook? Instagram is good for images and videos for a business, but maybe I'll start a TikTok account if the WaterSafe film comes out ok!

Self-employed or part of a team? Part of team.

Pipework or paperwork? Pipework

Pipe wrench or spanner? Pipe wrench
---
Watch Braden in action in our latest film, which explains why it's best to call an approved water supply pipe installer for certain types of jobs.

To find a WaterSafe-approved water supply pipe installer or other suitable approved contractor in your area, simply use the blue button on the top right to search for 'Water supply pipe installers', 'Underground pipework' or 'Leak detection', and enter your postcode.
For more information on joining WaterSafe as a water supply pipe installer visit watersafe.org.uk/join_wspi.