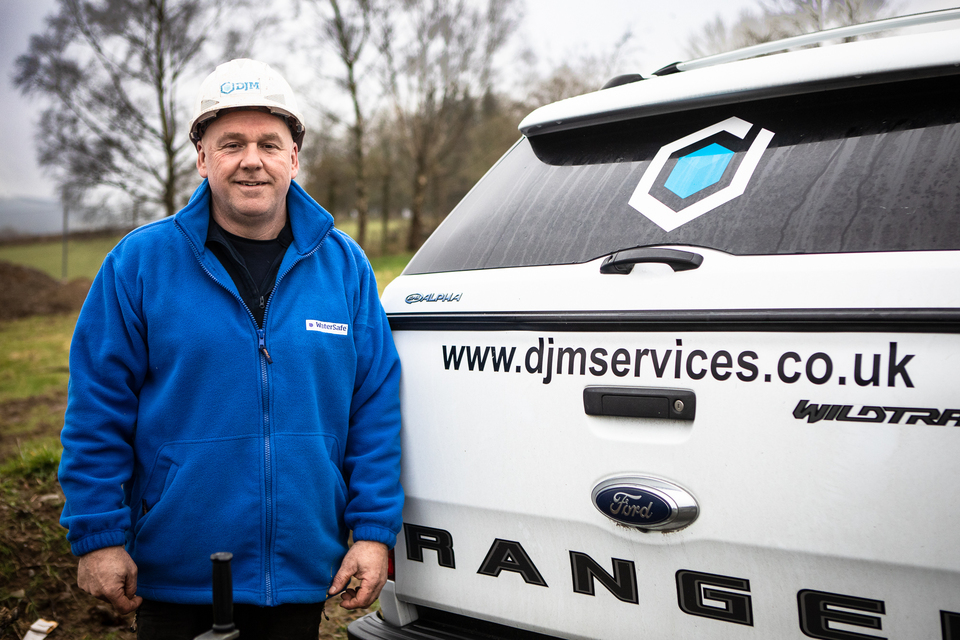 Meet WaterSafe approved water supply pipe installer Darrell Lewis from family-run business DJM Services (Pembs) Ltd. Darrell, who has over 25 years' experience within the water industry, explains the difference between an approved plumber and an approved water supply pipe installer.
What got you started as a water supply pipe installer?
I worked for a company who worked for Dwr Cymru/Welsh Water and decided to put together a team of my own.
Please tell us about your business / what you do
We are a family-run business. I have over 25 years' experience within the water industry and have gained our Water Industry Registration Scheme (WIRs) accreditation, so we lay new water mains in new developments, as well as external domestic work for householders.
What is the difference between an Approved Plumber and an Approved Water Supply Pipe Installer?
We can excavate and renew or repair the underground water supply pipes that carry drinking water to your property from the water main in the street – from the external stop tap up to the Internal stop tap. Plumbers are approved for all types of plumbing work.
When might someone need to hire a water supply pipe installer?
If they have low pressure, a leak, or old services inside their property.
What are the advantages of hiring a water supply pipe installer instead of a plumber?
We are skilled in the external water element of the water supply to a property. A plumber generally deals with the internal element.
Please describe a typical day in your working life
I make sure dig teams have plans for daily tasks, go to sites checking work we are due to carry out and carrying out. I spend a lot of time answering my phone dealing with developers and customers and giving advice.
What's the best bit of the job for you?
Every day is a challenge.
How has Covid-19 affected your work?
Luckily, our work is outside so we have been able to continue to work.
What's the job you're most proud of?
Every job is done to a high standard – we take great pride in our work.
Do you have any advice for young people entering the industry?
It can be cold and wet work, but it is rewarding to think you are helping to provide and improve the supply of the most important substance to the human race.
What does being a member of WaterSafe mean to you?
It shows that we are working within the water regulations and skilled.
What are your plans for the future?
Just keep doing what we are doing and hopefully set the way for my sons to continue on with the business.
Quick-fire questions
Name three qualities that make a great water supply pipe installer: Pride in your work, likes working outdoors and honesty.

Best way to unwind after a hard day's work? Soak in the bath.

Tea or coffee? Tea.

Fish and chips or curry? Curry.

Plastic pipe or copper pipe? Plastic.

Early bird or night owl? Early bird.

Twitter or Facebook? I don't do social media.

Self-employed or part of a team? Team.

Pipework or paperwork? Pipework.

Pipe wrench vs spanner? Wrench.
_____________________________________________________________________
For more information on joining WaterSafe as a water supply pipe installer click here.