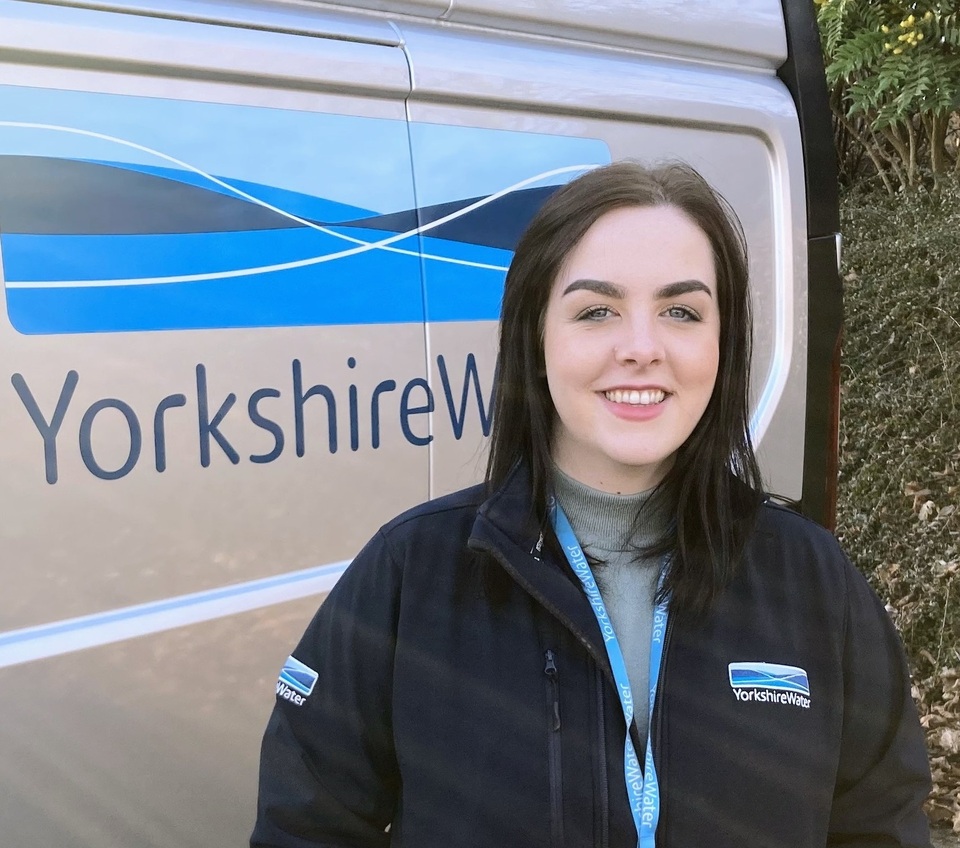 Emma is 24 and from West Yorkshire. She joined Yorkshire Water as a Water Regulations Inspector in 2021 after training as a plumber and is pleased to be flying the flag for women in what is seen as a traditionally male role.
How did you get started in plumbing?
I didn't really know what I wanted to do when I left school, just that I enjoyed science and more practical, hands-on activities. Teachers always said you must go to university and the academic route is the only way, but we wouldn't have homes if we didn't have plumbers, builders, and the like.
I decided to do an apprenticeship and worked at a university within the estates and facilities department doing the plumbing maintenance on the campus buildings for seven years, alongside going to a local college for four years to gain my Level 3 plumbing qualification. I was the only girl on a course of 20 + students. I then went on to study Building Services Engineering and then the job at Yorkshire Water came up.
What was the appeal?
Early on in my apprenticeship, I remember being in a plant room and a Yorkshire Water Inspector was there. I said to my colleague that one day I'd love to do that job - I knew I always wanted to do more than just plumbing on the tools and I wanted to expand my knowledge as I especially like the more technical side to plumbing. There are so many routes to go down within the industry, the sky's the limit.
Tell me about your role as a Water Regulations Inspector
I travel around Yorkshire inspecting businesses to identify any contraventions of the Water Supply (Water Fittings) Regulations 1999. More frequently known as 'The Water Regs', these are national regulations that apply to all plumbing installations. The regulations are there to make provisions for preventing contamination, waste, misuse, undue consumption, and erroneous measurement (stealing) of the water supply.
While on sites, I inspect the business and create a report if contraventions are found, and this informs the customer of the work needed to become compliant. I could be visiting a small vet's practice, a prison, or a huge factory. It's fascinating to see behind closed doors – some days I feel like Greg Wallace from the TV programme Inside the Factory.
I enjoy educating people when they don't know about the regulations. I have a great team at Yorkshire Water, we attend agricultural shows and carry out seminars at colleges to educate people about the regs and why it's so important to comply with them.
Are there many women in your position?
I'm the first female Water Regulations Inspector at Yorkshire Water and I'm not aware of any others elsewhere. I'd love to see more female plumbers generally, the plumbing and construction industry has so many opportunities and there are so many career routes you can go down. It's an industry which still sadly has its stereotypes and boundaries, but these are slowly but surely being broken down.
Some people have looked at me a bit puzzled, or admitted they were expecting a man, and most people are quite shocked that I'm a plumber by trade. I usually get lots of positive feedback and questions about my career though.
Would you encourage other women to get into the industry?
Definitely. There's so much variety in this job and I like the fact that I'm not looking at the same four walls every day. It never gets boring, and I love educating people. I really look up to other women in the industry. Within the Water Regulations and Water Quality team at Yorkshire Water there are some great female role models.
What are common contraventions that you see?
The first problem is that anyone can be a plumber – there's no law to say you must be an approved contractor. We see the damage unqualified and DIY plumbers do all the time.
Cross connections to different water systems (such as boreholes and rainwater harvesting) are a common issue. If someone hasn't had the proper training, they don't realise the damage and harm contaminating the water supply can do.
On sites we see inadequate backflow prevention on so many things, an example of a common contravention is insufficient air gaps when a category 5 fluid (serious health hazard risk) is being mixed with or used with mains water such as lab taps with hoses which are submerged in chemicals, or hose taps with hosepipes submerged in faecal material, butchery or other substances that could make you seriously ill.
We see hundreds of contraventions a week, but it's our role as Water Regs Inspectors to ensure these are rectified so the water supply is protected.
There have been incidents where installers and business owners have been fined and ended up with a criminal record due to the contamination caused by their bad work and lack of knowledge.
Any top tips for plumbers?
Always use compliant fittings. To be compliant, fittings must be tested to ensure they meet standards and are fit for use. In a perfect world I'd like to see only compliant fittings on sale.
Read the instructions. A lot of plumbers don't read the instructions. For example, something as simple as a wrongly set up toilet cistern can cause contamination. An insufficient air gap within the toilet cistern can mean water is back siphoned into the plumbing system. This generally comes to light when the blue water from a bloo block comes out of the kitchen tap!
Have a copy of the water regs handy and keep up to date with industry news through WaterSafe and Water Regs UK. Your local water company will also have a dedicated Water Regulations Team who will answer queries. Within our team we're always answering questions and queries from plumbers – we think it's great, we're here to help.
What do you think about WaterSafe?
I think all plumbers should have to be a WaterSafe member. We only recommend WaterSafe plumbers at Yorkshire Water as we know your members' work is compliant, they have a good standard of workmanship, and it stops cowboys. We say if you use an approved plumber once, you won't have to do the job twice.
The problem is you can't see what's in water – it can be contaminated with all sorts if plumbing is installed incorrectly. Hopefully one day it will be law that you must be an approved plumber.