Meet Aidan Pullen of A.P.C Water Engineers in Kent. Aidan talks about a lifetime working with water, and his advice for young people entering the industry.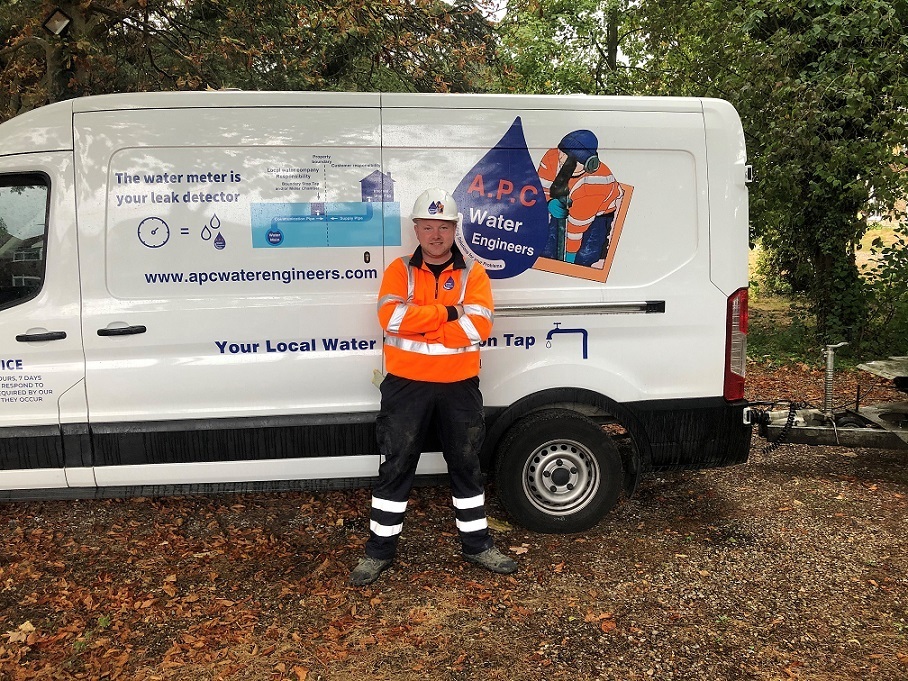 What got you started as a water supply pipe installer?
I was working directly for my local water company for many years and saw an opportunity to support customers with their private supply pipes in their hour of need.
How long have you worked in the plumbing industry and what are your qualifications?
I've been involved in the water industry from a very young age, as my dad has been in the water industry well over 35 years now. My dad and his four brothers all work in the industry for major water companies located all over the South East of England.
Please tell us about your business/what you do
My business is a 24/7 reactive service for water supply issues and water issues on the customer side of things. My qualifications are WIAPS WIA Approved Groundworker, National Water Hygiene, EUSR SHEA WATER, EUSR Locate Utility Services, Grundomat Tracto-Technik UK EUSR, Street Works Units 1–9, NPORS Operator Slinger / Signaller / Excavator 360 1 tonnes to 10 tracked, manual handling, abrasive wheels, butt fusion, electrofusion, plus a few more as I used to work directly for Affinity Water.
Describe a typical day in your working life
Waking up at 5:30am and dealing with emails and the business accounts. Then it's onto the good stuff dealing with our customers from 8am onwards, arriving at the job and carrying out repairs or replacement on a water supply pipe. I also have to be ready for emergency call outs, along with carrying out the planned works already on my daily schedule.
What's the best bit of the job for you?
Making sure the customer is in safe hands, and job satisfaction.
What's the job you're most proud of?
I'm proud of being a water supply pipe installer and having my own business within the water industry.
Can you bust a popular myth about being a water supply pipe installer?
When we're excavating and the customer asks if we've found gold yet - unfortunately, no, we haven't!
Do you have any advice for young people entering the industry?
I started in the industry from a very young age. I would say work hard and always be a good team player, always set yourself personal goals, gain as many qualifications and training as possible. But mainly gain good experience in the water industry.
What is the difference between an approved plumber and an approved water supply pipe installer?
An approved plumber can carry out all aspects of general plumbing and installing water supply pipes, and an approved water supply pipe installer can carry out repairs or replacements on the customer's water supply pipe.
When might someone need to engage a water supply pipe installer?
When the customer has an underground water leak, or impact moling works, or needs water supply pipe replacements.
What are the advantages of engaging a water supply pipe installer instead of a plumber?
We can carry out the heavy-duty side of things - from excavating the pipework to having our water company training to hand.
What does being a member of WaterSafe mean to you?
Showing our customers they are in safe hands and that we're correctly trained for the works.
Do you do anything to promote WaterSafe?
Yes, I have logos on the works van, my works info boards and on my social media platforms.
What are your plans for the future?
To stay in the water industry - I love it! I hope to train more water engineers in the industry, too.
Quick-fire questions
Name three qualities that make a great water supply pipe installer.
Quality workmanship
Outstanding customer service
Providing a 24/7 service for customers in their hour of need
Best way to unwind after a hard day's work? To relax with my family and friends
Tea or coffee? Tea
Fish and chips or curry? Fish & chips
Early bird or night owl? Both
Twitter or Facebook? Instagram
Self-employed or part of a team? Self-employed
Pipework or paperwork? Both
Pipe wrench v spanner? Footprints wrench - if allowed!