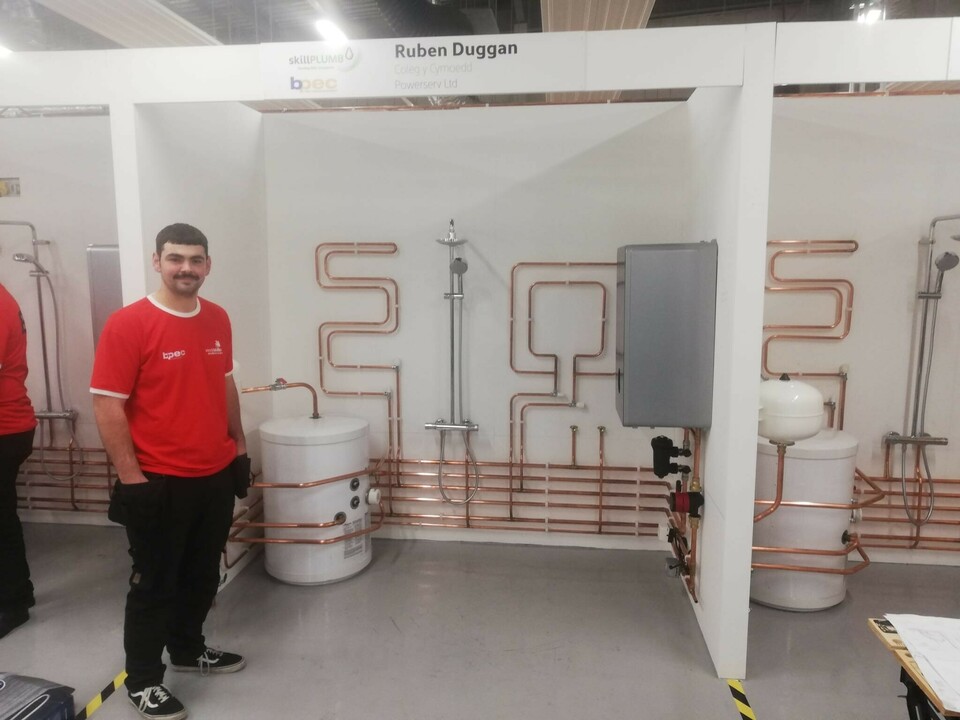 It's been a good year for 20-year-old plumbing apprentice Ruben Duggan from South Wales. He's scooped the plumbing gold medal in the UK National SkillPLUMB 2022 Final, just a few months after winning the HIP Learner of the Year contest.
Part of the WorldSkills competition, finalists in the National SkillPLUMB event underwent a seven-month process of regional heats and intensive training before eight reached the finals. We caught up with Ruben to hear more about his latest win in the competition sponsored by WaterSafe.
Tell me a bit about yourself
I'm a plumbing apprentice in my final year at Coleg y Cymoedd near Cardiff. I spend one day a week at college and the rest of the time working with my dad and two of my brothers at our family plumbing firm, Powerserv Ltd. I'm used to being competitive because I work with my brothers!
Why did you want to be a plumber?
Because of my dad. I've been plumbing with him for years, since I was very young. As I grew up helping him, I couldn't wait to leave school and get my formal plumbing qualifications.
Tell me about the SkillPLUMB competition
There were regional heats around the country and the final was a two-day event at Middlesbrough College, which is a fair way from where I live. I'd been training since the HIP competition as I knew I had to really think about what I was going to do – I couldn't just turn up with my tools. I had an idea of what competitors had been asked to do in previous years, so I knew what tools I'd need and that they'd ask for specific bends and angles. I also spent time practising my soldering.
Was it challenging?
Yes, as it was very technical. We had to carefully follow drawings and knew the judges would be looking for accuracy with angles and bending. They also wanted to see that our soldering was good.
Why did you want to enter?
My college put me forward. I'd entered once before and came third in Wales, and then Covid paused the competition for a couple of years. When it returned, I was keen to take part and I knew what to expect.
Winners were announced on a live tv show presented by Steph McGovern. Where were you watching it?
I was at home, getting ready to go out and see a cover band with my dad and brother as it was a Friday evening. I was really pleased when my name was read out, but I think my dad was the most excited – he was running around the house telling everyone I'd won!
Did you think you'd win?
I had a good feeling when I left the competition but thought I'd made a few mistakes, so didn't think I'd actually win. Then we had to wait for a week after the finals for the results to be announced in line with other WorldSkills competition winners.
Some of those taking part in this contest could be invited to compete at the WorldSkills 2024 event in France. Do you know if you'll be going?
No, I haven't been told if I'm eligible for that yet. It would be amazing if I was!
What do you think about WaterSafe?
I think it's a great idea and I'm going to sign up when I'm fully trained.