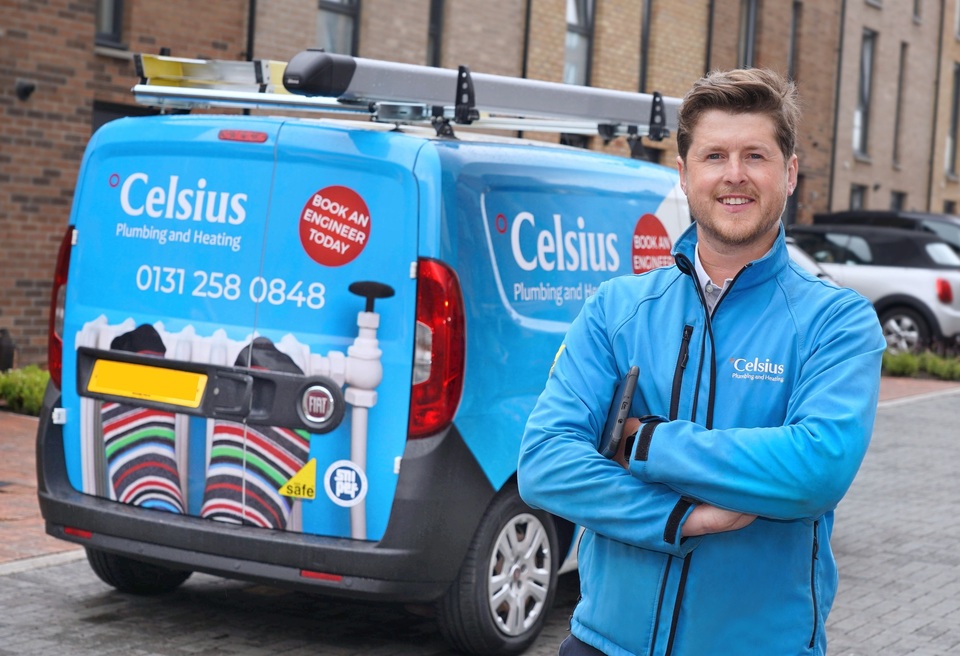 Michael Cairns from Edinburgh set up

Celsius Plumbers in 2007. The firm has grown to employ 16 people, with further plans for expansion. Here, he tells us about his life as a plumber and the time a customer cuddled and kissed him.



What got you started in the plumbing industry?
I was interested from my late teens when a lot of my friends were in the trade. However, I found it difficult to secure an apprenticeship. I'm sorry to say it hasn't improved and is still the same for young people now. I wrote a lot of letters and was eventually successful, but a year after I qualified, I was made redundant, so I decided to set up my own business.
Tell us about your business
I now employ 16 people and we do mainly reactive maintenance, same day repairs, emergency callouts and landlord safety checks. We don't do bathrooms or long contracts, so we never know what's coming next. Working in this way means our communication has to be really good and we've worked hard at that.
Describe a typical day in your working life
Because of the way we work, I don't really have a typical day – and no two days are the same. We do usually have some planned maintenance, but we'll get called to all sorts of jobs from blocked drains to gas leaks.
What's the best bit of the job for you?
I like the technology side of what we do, and building systems, but I also like looking after my team. Plus, it's satisfying to get a customer's broken boiler up and running again as it makes such a difference to them.
What's the job you're most proud of?
There are many, especially when you help families get their heating back on or help someone who's vulnerable. One job that particularly stands out is during a cold snap when a customer's cold water tank had frozen, the main had burst and water was going everywhere. I turned up to find the lady in her loft, wearing a head torch, trying to stop the leak. When her husband phoned me, I happened to be only a few minutes away. She couldn't believe I was there so quickly - she actually cuddled me and kissed my cheek as she was so relieved I sorted everything out!
Can you bust a popular plumbing myth?
The world is a very different place from when I started plumbing. Back then, plumbers had a bit of a reputation for being unreliable and rip-off merchants who didn't get back to you. Now, we live in a different era, and I think people's expectations are higher because everything is more instant. There are lots of good quality companies out there now. There used to be more larger businesses that had 100 plumbers, but they are few and far between now. I think the bar has been raised and the level of service is getting better every year.
Do you have any advice for young people entering the industry?
We try to do more than most firms as I remember how hard it was to get a foot in the door. We have a dedicated webpage with hints and tips which will stand them in good stead. I'd definitely recommend they get their driver's licence as it's more efficient if an apprentice can drive. I'd also suggest completing a pre-apprenticeship course and putting yourself out there. Most CVs I read say that the person is good at communication and can work alone or as part of a team, so I'd say try to think differently. Attach a video with your application to show off your personality. There's a huge shortage of skilled labour among all trades so there should be plenty of opportunities.
What does being a member of WaterSafe mean to you?
I'm proud to be a member of WaterSafe - it's a stamp of approval and shows that I'm properly trained and qualified. There's so much information and competition online when people decide who to choose, so belonging to WaterSafe gives me an advantage over plumbers who aren't members.
What are your plans for the future?
It's time to expand so we're moving into new, larger premises. This will give the office team more space, it will be easier to train apprentices and we can keep more stock on site. I also plan to grow the team to 20.
Quick-fire questions
Name three qualities that make a great plumber Reliable, good communicator, conscientious.

Best way to unwind after a hard day's work? I've got three children, so I don't know what that means! Given the chance, I'd watch football or go for a run.

Tea or coffee? Coffee.

Fish and chips or curry? Fish and chips.

Plastic pipe or copper pipe? Copper pipe.

Early bird or night owl? Both! A few years ago, I was a night owl but I'm more of a morning person now.

Twitter or Facebook? Twitter. Our handles are @Celsiusheating_ and @celsiusplumbers

Self-employed or part of a team? Part of a team

Pipework or paperwork? I prefer pipework but do a lot of paperwork.

Pipe wrench v spanner? Spanner
---

All WaterSafe approved plumbers are supported and promoted by their local water company.
To find out more about the benefits of WaterSafe membership, visit How to Join >