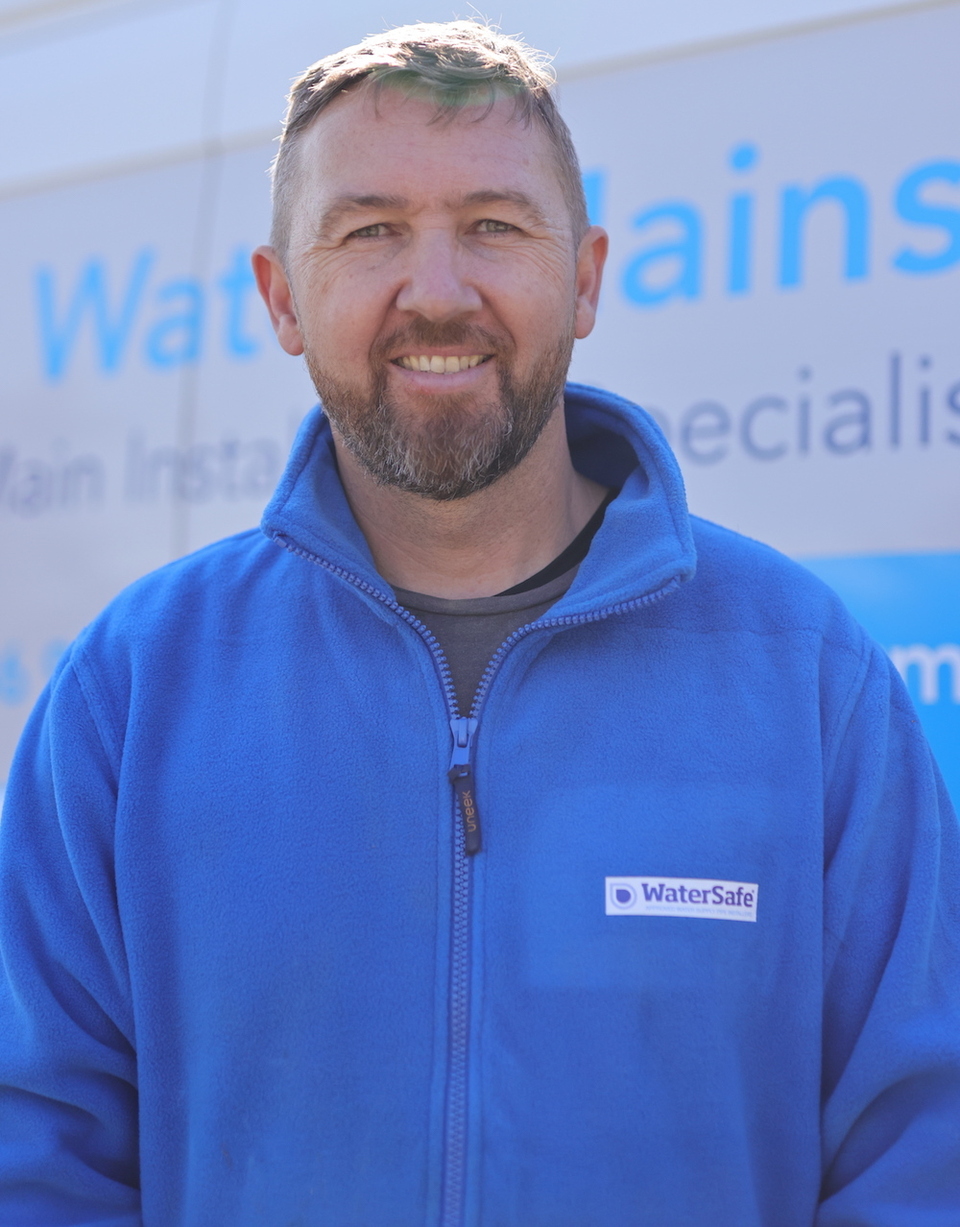 Meet WaterSafe approved water supply pipe installer Aaron Folan, of Sussex Water Mains Ltd, who stars in our short film highlighting the importance of using a qualified, approved contractor to work on your water supply pipe.
What got you started as a water supply pipe installer?
I've been in the pipe laying industry since I was 19. I'm just about to turn 44, so that's around 25 years. My dad was in the same industry, so I guess I was always destined to follow suit. I started my career with my dad at our local water company, Southern Water. I was with Southern Water for about eight years, before we became outsourced to Clancy Docrwa.
It was always in the back of my mind to one day have my own business, helping customers with their supply pipe issues. I left Clancy in 2015 and started up my own business doing exactly what I had dreamed of for all those years.
Please tell us about your business/what you do
Our business is based on helping private/commercial customers with any water supply pipe issues that may occur. This can vary from fixing leaks on large water mains to blocks of flats, or simply fixing small supply leaks for private residences. We can replace any diameter pipework, using either the impact Moling technique or open trenching.
What is the difference between an Approved Plumber and an Approved Water Supply Pipe Installer?
The difference is simple. An approved plumber can work on all parts of a plumbing system. A water supply pipe installer specialises in the pipework under the ground that carries drinking water to your property from the water main in the street.
What are the advantages of engaging a water supply pipe installer instead of a plumber?
If any local authority water user ever notices a large water bill, or water escaping out of the ground, then a phone call to a water supply pipe installer is a great option instead of a normal plumber. We have all the equipment and fittings on our vans to help find leaks quickly, easily and efficiently – and make repairs without any fuss.
Please describe a typical day in your working life
A typical day for us would consist of arriving on site for 7:45am, regardless of how far from home we are working.
A lot of our work is the replacement of old private water mains. To replace an old water main, we either dig a trench for the new pipe to go in or, depending on the specific circumstances, we can install a new MDPE plastic water main using a 'no dig' technique called 'moling'. Moling involves an average of around three small holes per job, so there is still a fair amount of hard labour involved. Once the pipe has been replaced, everything is backfilled and re-instated and the site left spick and span!
My guys are normally home for around 5:30pm most days, but my own days tend to finish later. This is due to all the paperwork. It used to be a lot later when I first started out, but these days, my big boss (wife) drags me out of the office at around 9pm.
What's the best bit of the job for you?
The best bit about our job is the satisfaction you get out of making sure that every single job is done perfectly. During my time as an apprentice back in the day, you were taught that everything has to be perfect, even though you won't be seeing the pipe when its finished. I've got a bit of OCD too, so I won't sleep well unless it's perfect.
How has Covid-19 affected your work?
Covid hasn't affected it too much to be honest. It's made life slightly harder, as we have to remember to disinfect areas that we have worked in, if we have to go inside customers' properties. People still have water leaks that need to be fixed, so we just have to come up with plans that customers are happy with.
Can you bust a popular myth about water supply pipe installers?
A lot of customers assume that because they have a water leak it's going to be a messy, horrible job to repair. That's not the case though. Because we do this work all day, every day, we can do this effectively and efficiently.
We know our job inside out, so if there are ever any problems we know how to get them resolved. We carry all types of fittings on our vans to make any repairs, so there is no time wasted. We clean up perfectly after very job and our reinstatement is first class. You'd never really know we'd been there by the time we're finished.
Do you have any advice for young people entering the industry?
For new starters I would advise to get some good waterproof clothing. You will be getting wet otherwise! As long as any new starter is prepared to work hard, this industry is great and you will love it!
What does being a member of WaterSafe mean to you?
Being a member of WaterSafe means a lot to me, as it shows that we are approved and trained in the water regulations so we can keep the water infrastructure safe for all.
What are your plans for the future?
My plans for the future are to keep it simple. I have a great team around me and wouldn't want to change any of them. I don't want to expand, as I know that's when things can become harder. Things are great as they are... although finding time for a holiday would be good!
Quick-fire questions
Name three qualities that make a great water supply pipe installer. Hardworking, honest and diligent.

Best way to unwind after a hard day's work? Family time for me is always the best time.

Tea or coffee? It would have to be a very strong tea, almost black with 1.5 sugars.

Fish and chips or curry? Curry for sure!

Plastic pipe or copper pipe? Tricky as they both have good qualities. It's evens for me, as it would depend on what we were doing. (or am I over thinking it .. lol).

Early bird or night owl? Both I'm afraid, although I've stopped working weekends now.

Twitter or Facebook? I'm not really on social media a lot. I believe my daughters have set up things on social media, but I don't check them out really. Sometimes I check out the Instagram page, but that's it. I'm bit old school!

Self-employed or part of a team? We are self-employed, but also work great as a team.

Pipework or paperwork? Pipework all day! Paperwork is the worst part!

Pipe wrench vs spanner? It would have to be a tool called a footprint, as opposed to a pipe wrench or spanner. It's what the majority of "pro supply pipe installers" go to for tightening fittings.
________________________________________________________________________
To find a WaterSafe-approved water supply pipe installer or other suitable approved contractor in your area, simply use the blue button on the top right to search for 'Water supply pipe installers', 'Underground pipework' or 'Leak detection', and enter your postcode.
For more information on joining WaterSafe as a water supply pipe installer visit www.watersafe.org.uk/about/installer_area/join_wspi/.