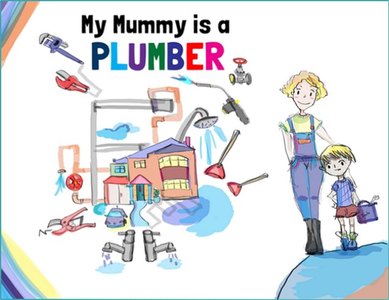 Young children are being encouraged to think about a career in plumbing in a new book for three to seven-year-olds called 'My Mummy is a Plumber'.
The book has been published by Butterfly Books, in collaboration with WaterSafe, the national accreditation scheme for plumbers which promotes best practice in the industry.
Butterfly Books aims to raise awareness of future careers for children at a young age to help reduce skills shortages and promote more traditional male jobs to young women.
Julie Spinks, of WaterSafe, said: "We were delighted to work with the authors on the My Mummy is a Plumber book which shows how she saves the day to tackle burst water pipes and overflowing toilets.
"WaterSafe is keen to support young people coming into plumbing, particularly through apprentice schemes, and this books supports our own campaign, Get Girls Plumbing, to encourage more women to consider plumbing as a career."
Butterfly Books has already released 'My Mummy is an Engineer' and is also working on 'My Mummy is a Scientist'. A 'My Daddy' series is due to follow.
Author Kerrine Bryan, said: "We hope that the books will educate children on the world of work, and the wider range of careers open to them. In creating My Mummy is a Plumber we also learnt a bit about basic plumbing too!"
The book is available to buy at Butterfly Books for £6.99, plus postage and packaging, and a percentage of profits is donated to children's charities.
To find your nearest WaterSafe accredited plumbing business and plumbers qualified to work safely with drinking water in your home enter your postcode in our Find a Plumber search.