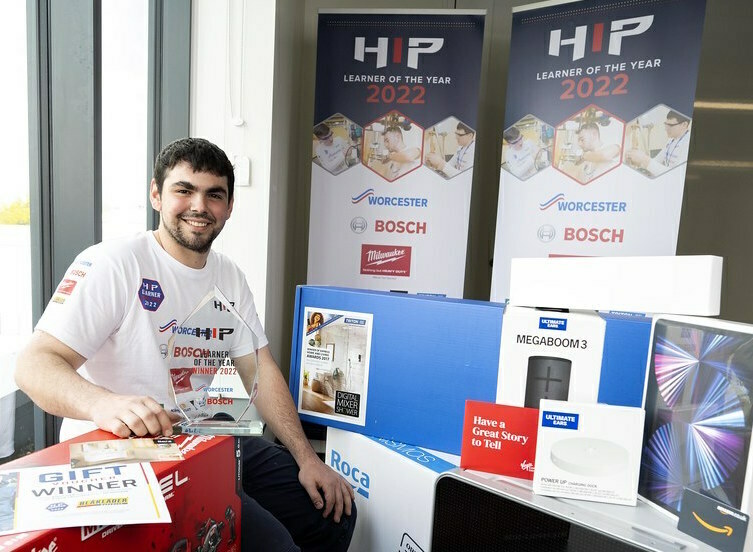 As a proud sponsor of HIP Magazine's 2022 competition, WaterSafe caught up with plumbing apprentice Ruben, crowned HIP Learner of the Year in April, following a live 12-hour practical test across a two-day final at the Worcester Bosch Headquarters in Worcester.
––––––––––––––––––––––––
Level 3 plumbing apprentice Ruben attends Coleg Y Cymoedd's Ystrad Mynach Campus in southeast Wales one day a week and is an apprentice with his Dad's company Powerserv Ltd.
Congratulations Ruben! How does it feel to be crowned HIP Learner of the Year 2022?
It feels fantastic to have this achievement under my belt and my Dad loves to tell his customers – they seem to be well impressed!
What was the highlight of the final for you?
My highlight was actually doing the work – it felt so great to be involved in such a well-respected contest.
What was the trickiest task of the final?
The trickiest part was the three passovers on the pipework – a series of bends over another pipe – which was also my favourite part.
What's your favourite aspect of plumbing so far?
Working on copper pipework on show in customers' houses, where they want to make a feature of the pipework.
What made you choose plumbing as a career?
My Dad is a plumber and I've been working with him since as long as I can remember. Ever since the first day I went to work with him, I've always known I wanted to be a plumber.
What do you think makes a great plumber?
Someone who constantly takes pride in their work and doesn't cut any corners. Someone who is always keeping up with the industry regulations and trying new ideas and tools.
How are you finding your apprenticeship?
My apprenticeship is so much more than a job with my Dad. When I wake up to go to work, I love finding out what the day is going to challenge me with. We only work for private customers and they love to see us in the morning and are always happy with the job we have done when we leave. This gives me massive job satisfaction.
Do you have any advice for those considering studying plumbing?
Go for it! It's such an interesting job and there is always something new and challenging to overcome. As you're always working in customers' houses, this means as much tea or coffee as you can drink and a few biscuits if you're lucky! My Dad always told me "Find a job you love and you'll never work another day in your life" and I know that's 100% true.
How has Covid-19 affected your studies and work?
Covid-19 disrupted both work and college and it was a difficult time for us, as my Dad didn't have much work coming in for the first six months. It's built back up since then though.
What are your thoughts on the WaterSafe scheme?
I think the WaterSafe scheme is essential for people to find good and trustworthy contractors.
What are your plans for the future?
I love plumbing and all I know is that that's what I'll be doing in the future.
––––––––––––––––––––––––––––––––––––––––––––––––
Thinking of becoming a plumber? Click here for the qualifications you'll need, including information on modern apprenticeships.
Interested in taking part in next year's HIP Learner of the Year competition? Keep an eye on HIP Magazine's Twitter, Facebook and Instagram pages – applications open in September.