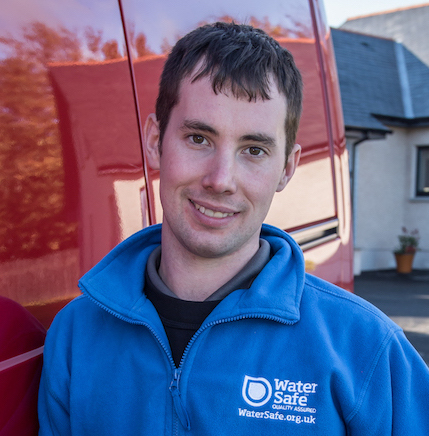 Knowing where to go to find a professional, skilled plumber is vital, according to 2016 UK Plumber of the Year Shaun Scott.
The 25-year-old, who was named the UK's top plumber earlier this year, warns that it is only too easy for people who aren't qualified to cause thousands of pounds worth of damage and give the industry a bad name.
The Scotsman is a member of WaterSafe, the UK accreditation scheme for qualified plumbers, which ensures all its members are trained to work safely with drinking water.
Shaun said: "It's massively important to be properly qualified and for customers to be able to see that. It's people who aren't qualified who give tradespeople a bad name and then people mistrust the industry.
"It's easy for someone who is not qualified to cause lot of damage if they bodge a job – they can flood a house and cause thousands of pounds worth of damage."
He is urging all households and businesses looking for a competent plumber to visit the WaterSafe website and use its postcode search to find a local skilled tradesperson.
Shaun works for his father's firm Derek Scott Plumbing in Insch, Scotland and has been a plumber for nine years. He undertook a three-year NVQ level 3 course, as well as learning on-the-job.
He puts his success down to great customer service: "I always deliver jobs of the highest standard and will not settle until I've achieved this. I enjoy my work and don't think twice about going the extra mile.
"I'm always on the phone offering advice to customers looking for guidance and there's not been a job I haven't done where I am not welcome back. Often we price jobs and we are not the cheapest but they know they will get a first class job."
*Derek Scott Plumbing is a member of WaterSafe through one of its seven member schemes, SNIPEF, which vets and audits all members to ensure they have the required professional qualifications and customer care policies in place required to meet the WaterSafe standards.
Use the WaterSafe postcode search online or call 0333 207 9030 to find your nearest WaterSafe approved plumber.