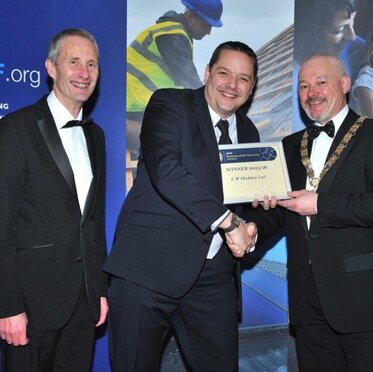 A Scottish WaterSafe approved business has been named Business of the Year by the Scottish & Northern Ireland Plumbing Employers' Federation (SNIPEF).
SNIPEF, which runs one of the seven Approved Contractors' Schemes under WaterSafe, awarded its inaugural Business of the Year accolade to WaterSafe Approved LW Haddow Ltd of Perth.
The award recognises technical skills and ability, excellent customer service and a commitment to raising standards in the industry.
The judging panel described the winning firm as submitting a 'stand-out application reflecting a professional and progressive business that takes pride in its work'.
Mark Haddow, managing director of LW Haddow, said: "I am delighted that our team has won SNIPEF's Business of the Year. We work hard to provide a great service to our customers. We know that they expect both great value and care for their property from our experienced technicians.
SNIPEF accreditation ensures that our customers can be confident of a high level of service. This award means a great deal, acknowledging the commitment, skill and professionalism of everyone in our team. I am proud of our team, and am grateful to our many customers whom we work with."
Robert Burgon, SNIPEF Chief Executive, said: "We are delighted to be able to recognise professionalism, commitment and innovation in the plumbing industry with our first annual awards programme. Too often the reputation of the industry is blighted by those who are neither qualified nor licensed. We, like our award winners, represent the very best in plumbing skills and seek to uphold the highest of standards in all aspects of domestic and commercial work."