Following new research which reveals that Brits have spent a whopping £2.6 billion in the last year fixing plumbing disasters, WaterSafe is warning homeowners about the costly risks of using a dodgy tradesperson.
According to the survey of 2,000 consumers, a shocking two thirds (69%) admit they choose their plumber on cost alone without worrying if they are registered with an approved contractors'scheme or have any professional credentials.
Putting cost as the priority, however, comes at a price. Of those polled, nearly a quarter (23%) reveal they have fallen victim to a rogue plumber and a further 23% know somebody it has happened to, with the average repair job coming in at £426. The result is major financial outlay , as it's estimated that Britain has shelled out an astonishing £2.6 billion rectifying botched plumbing jobs.
The issue, it appears, is one of national negligence when it comes to sourcing a credible plumber. Of those polled, more than two thirds (68%) said they would trust the opinion of a friend or family member and over a quarter (27%) go by a neighbour's referral, with only a mere fifth (21%) going on to check out if the person is legitimate.
Worse still, more than half (53%) admit that they would willingly ask an unqualified person to undertake plumbing work in their home if they thought it would help save time getting the job done. Yet, 80% say they don't always expect their plumber to do a good job.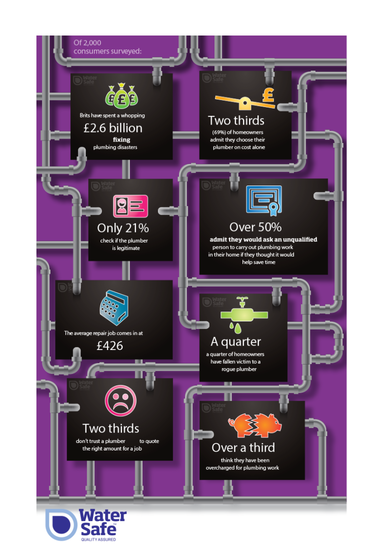 Interestingly, this blasé attitude clearly doesn't extend to the cost factor, with over two thirds (69%)stating they wouldn't trust a plumber to quote the right amount and always get a second opinion. Not surprising, given a third (33%) claim they have been overcharged before.
Helping to pull the plug on rogue plumbers, the newly launched WaterSafe Installers' Scheme is a national register, accreditation body and online directory designed to provide home and business owners with a trusted, credible source of approved plumbing businesses in their area.
Kevin Wellman from WaterSafe, comments: "Our survey results are truly shocking. Whilst it is fully understandable that, times as they are, UK homeowners may need to be extra frugal, the price of putting cost before credentials can be catastrophic.
"Not using a properly qualified plumber is not only dangerous; it's a false economy and could end up costing the homeowner thousands of pounds and a lot of hassle to put right. Furthermore,there are the safety implications. Water safety in the home is of paramount importance and by using a dodgy tradesman; homeowners are not considering the risk that contaminated water poses. For us, the motto is'be safe, be WaterSafe'."
TV presenter and consumer champion, Alice Beer is supporting the campaign to get the nation clued up to only using trusted plumbers.
She said; "WaterSafe's website allows consumers to search for an approved plumber in their area, ensuring that they are getting a safe and competent tradesman to carry out work in their home. By using a properly qualified professional with this scheme, we can work together as a nation to drive out unethical plumbers and raise safety standards."
Follow us on Twitter @WaterSafeUK