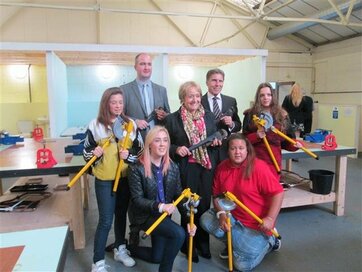 As a woman steps up to the top job in the UK as prime minister, WaterSafe is backing a free scholarship programme to get more women working in the plumbing industry.
Currently only about one per cent of plumbers in the UK are women, despite many householders saying they would rather employ a female plumber.
Now, Choice Training, in Dagenham, London, is offering free scholarships for women to encourage them to take up a career in the plumbing industry.
Julie Spinks, director of WaterSafe, the nation's approved plumber scheme, said: "Plumbing can be a rewarding career but like many trades it is still male-dominated and we want to encourage more diversity in the industry.
"WaterSafe launched a 'Get Girls Plumbing' campaign in 2014 to promote plumbing as a career to school leavers and women looking for a change in direction, and this free scholarship offers a great opportunity to women in the London and Essex region."
The scholarship covers all tuition fees for a one-year course to gain a Level 2 City & Guilds Diploma in Plumbing certificate. The courses run over two days each week.
Former scholarship winner Sally King said: "I got one of the scholarships and it has helped me climb ladders that I could never have done without their help.
"A lot of women do prefer women coming into their homes as they feel safer with another female. I have also had a lot of men who did not look impressed that a woman was coming in to do plumbing repairs, but were pleased that I did the job as well as any man when I had finished!"
The scholarships are open to women of all ages and abilities and applicants need to submit 100 words about themselves and why they would like the scholarship.
To find out more visit Choice Training.
Read more information on becoming a qualified plumber here.