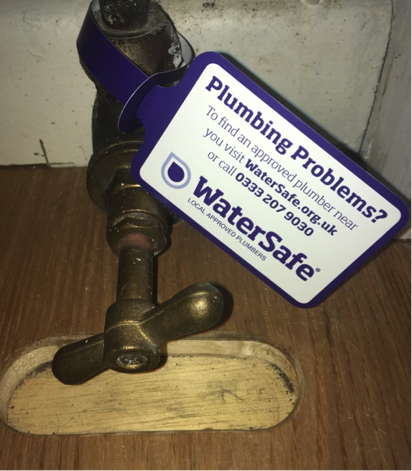 Householders are being urged to make sure they have complete peace of mind for the worst of any winter weather still to come by labelling their stop tap.
WaterSafe, the UK-wide register of approved plumbers, has produced stop tap labels to help customers get straight to the point when it comes to acting in a burst pipe emergency.
With temperatures still on the chilly side, and the prospect of more sudden freezes and thaws still to come, special labels are now available for homeowners to give their stop tap one final bit of attention.
Julie Spinks, director of WaterSafe, said: "Our winter campaign has urged householders to `find, check and label' their stop tap – and now it's time to make sure you have complete peace of mind for potentially the worst of the winter weather to come by labelling it.
"Labelling your stop tap clearly will make it easy to find and ensure that it doesn't get confused with your hot water valve. Then make sure everyone knows where it is and how to use it."
If pipes freeze and burst in winter weather, using the stop tap to shut off the water supply quickly can greatly reduce the devastation and cost of damage caused by flooding.
Internal stop taps are usually located under the kitchen sink, but can also be found in downstairs bathrooms, kitchen cupboards, garages, cellars and under the stairs.
WaterSafe has 100 free stop tap labels – which includes a handy section for the contact details of an emergency WaterSafe-approved plumber – to give away. To claim yours email info@watersafe.org.uk with your full name and postal address.
WaterSafe's advice supports the Met Office's year-round #WeatherReady campaign, which encourages everyone to think about what they can do to prepare for and cope with severe weather.
More WaterSafe information on finding and checking your stop tap can be found at watersafe.org.uk/winter.