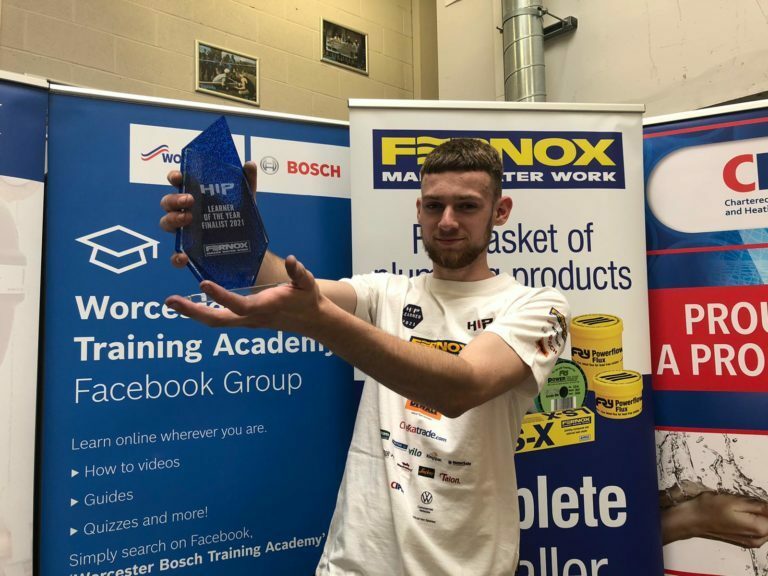 As a proud sponsor of this year's competition, WaterSafe caught up with Level 2 plumbing apprentice Tom, recently crowned HIP Learner of the Year following a live six-hour practical installation which showcased his skills in a Covid-safe environment.
––––––––––––––––––––––––––––
Due to start his level 3 plumbing diploma in September, Tom attends Burnley College in Lancashire one day a week and is an apprentice with Pinnacle Plumbing & Gas Services.
Congratulations Tom! How does it feel to be crowned HIP Learner of the Year 2021?
It's an amazing achievement to be crowned HIP Learner Of The Year. It's such an amazing competition that's run so well by all the organisers and sponsors. It was surreal to get the phone call that I'd been selected as the winner.
What was the highlight of the final for you?
When it was finished and I could stand back and appreciate and admire all the work I'd done. All aspects of the competition were enjoyable to take part in though and I'd recommend it to any learner.
What was the trickiest task of the final?
Piping behind the boiler jig as there was little room.
What's your favourite aspect of plumbing so far?
It has to be pipe bending as it's a real skill to be able to do. It's such an achievement when you do a successful bend or even multiples.
What made you choose plumbing as a career?
I attended a taster day at Burnley College when I was still at high school. I took part in multiple construction industry activities and plumbing was the one I enjoyed the most.
What do you think makes a great plumber?
I think a great plumber has to most importantly be organised and have excellent customer skills. It's also important to be accurate and have an eye for detail.
Tell us a bit more about your apprenticeship
When I left school I started on a level 1 full time course – from the beginning I tried to find an apprenticeship but it wasn't an easy task. I asked around and applied everywhere I could until Pinnacle Plumbing & Gas Servicesgave me the best opportunity I've had. I've been working with them for around 18 months and all the credit goes to them for being such great teachers. I'm very lucky because the variety of work we do covers all aspects of plumbing. I like it because everyday is different, we do bathroom fittings, central heating work and maintenance and servicing.
Do you have any advice for those considering studying plumbing?
I would 100% recommend studying plumbing and doing an apprenticeship because it's a great trade to be involved in. You'll learn skills that you'll have with you for life. Every day is different.
How has Covid-19 affected your studies and work?
I would say Covid-19 hasn't really affected work as we've been busier than ever. It's just interrupted the routine of things – delaying materials for example. However with college being shut for a long period of time exams have been delayed and learning has been online. Burnley College did an amazing job teaching online and made sure everyone was kept up to date. At the minute it's a matter of squeezing all exams in before the end of the year.
What are your thoughts on the WaterSafe scheme?
I think the Watersafe Scheme is a really good idea as it's a great way to let potential customers know that you are not only qualified but also trained in the water regulations that help keep drinking water safe.
The fact that the regulations also help avoid water waste is really important too – we need to do everything we can to save water.
What are your plans for the future?
To get as much experience as possible and learn everything I can. I'd like to learn about renewables in the future.
–––––––––––––––––––––––––––––––––––––––––––––––––––––––––––––––––––––––––––––––––
Thinking of becoming a plumber? Click here for the qualifications you'll need, including information on modern apprenticeships.
If you're interested in taking part in next year's Learner of the Year competition, keep an eye on the HIP Magazine website – applications open in September.