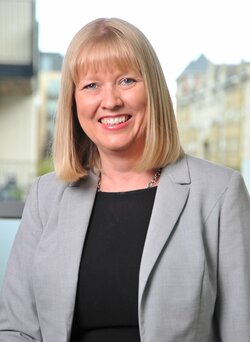 Fiona Hodgson took over as the new chief executive of SNIPEF and a member of the WaterSafe Board earlier this year. Formerly head of finance and membership services for SNIPEF, she is a chartered accountant with more than 20 years' experience.
Here she shares her thoughts on her new role and the importance of well-trained new recruits in the plumber sector:
"Managing a trade association in the 21st century doesn't come without challenges and I know already that I am going to be extremely busy in the months ahead.
I look forward to playing my part as a director of WaterSafe, which SNIPEF sees as playing an important role in promoting the use of professional plumbing businesses employing qualified plumbers. SNIPEF has campaigned for such recognition for much of its 93-year history but recognises that much more needs to be done before customers generally appreciate that they should use a professional business for all of their plumbing and heating work. When customers start to look for approved businesses, both they and the businesses should benefit.
SNIPEF is active in managing plumbing apprentice training in Scotland and one of our current priorities is to see an increase in the number of new recruits being trained. Unlike the situation in other parts of the UK, Scottish plumbing apprentices all aim to achieve Level 3S/NVQ and it would be good to see other parts of the country adopting this approach.
An industry without an adequate supply of new recruits training to an appropriate standard could be an industry storing up trouble for the future. I see that as one of the main challenges currently facing plumbing in the UK. Perhaps WaterSafe can play a part in helping to address this challenge?
I look forward to working with industry colleagues in WaterSafe."
Fiona Hodgson, CEO of SNIPEF