In the second plumber profile blog for the WaterSafe website we're delighted to chat with Steve Bartin, recently crowned Plumber of the Year 2018! Steve lives in Devon and owns Plug and Chain plumbing company, with a showroom in Taunton, Somerset.
Fancy being a WaterSafe profiled plumber? Drop us an email at watersafe@create51.com.
–––––––––––––––––––––––––––––––––––––––––––––––––––––––––––––––––––––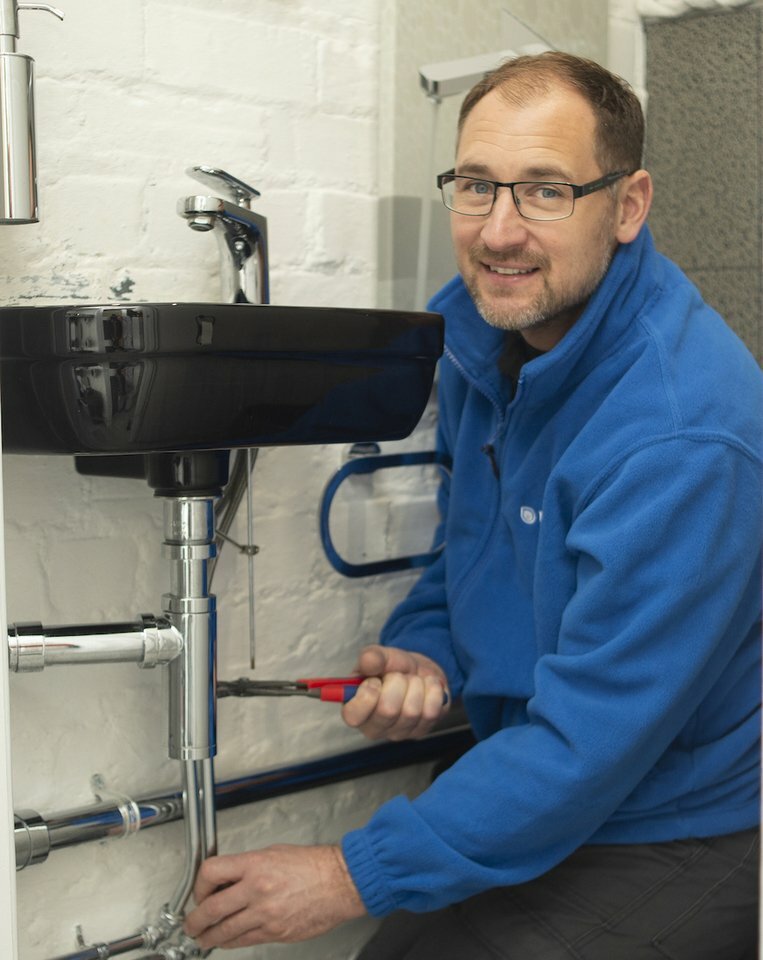 What got you started in the industry?
I started at 14 working at weekends and holidays for my neighbour who owned a plumbing company. When I left school at 16 I started a four-year apprenticeship with him, but I'd already learnt a lot before I even started! From the first time I worked with him that was it – it was what I wanted to do. I had an aptitude for plumbing straight away, I loved lego and fiddling about with things so the technical side and solving problems was right up my street. The work ethic, what we did and the quality of his work is what I follow now – in my mind it was second to none and only the best was good enough.
I did try work experience with a building company too but that wasn't for me – outside in the cold. So, I got my NVQ3, Gas Safe training and water regulations and that was the start.
Describe a typical day in your working life
Up at 6am, bowl of porridge, strong coffee for the day, check emails and diary and we all meet at the lock up to sort out vans and materials to get on site for 8am ish.
Do a day's work, finish from about 6pm (or later!) then look at jobs to price, paperwork and back home.
Last thing is a walk with my wife Dawn and the dogs, Bert the beagle and Pixie the 'bit of all sorts'. I tell Dawn about the good and bad things of the day and get it off my chest. Sometimes when you own your own company it can be a lonely place.
Saturdays I'm in the Plug and Chain showroom and usually have a coffee and bacon roll with the restaurant owner over the road and put the world to rights.
What do you love about the job?
Meeting customers. Running through what they like, sorting out the obstacles and understanding what they want. We are a service industry so it's all about people and communicating with them.
I get to know my customers and many become friends – they invite me for a cup of tea when I'm passing. I've never not been paid and never fallen out with anyone.
What's the job you're most proud of?
This was the one I talked about for my POTY interview at the finals. I've done flashy, big bathrooms but my proudest job was a really small one where the customer wanted a wet room in a really small space in a stone building. They were thinking ahead for when they retired and were getting older.
Everyone said it was impossible but we managed it. There were 3ft stone walls and only one of us could be in the room at a time and sometimes you had to be a contortionist to get under the floorboards. It was so tight every millimetre was critical.
They were chuffed to bits with it and the end result was amazing.
Can you bust a popular myth about plumbing/plumbers?
People think that plumbers are earning a fortune and it can sometimes seem that way if you look at the hourly rates. But when you consider the overheads of responsible plumbers – tools, vans, insurance, on-going training – the hourly rate is far from what we put in our pocket.
So, I think when it's drummed into people to get three quotes (which I totally agree with) the reason behind it has been a bit lost. It's not about the cheapest but who is offering the best service for the price – do they know what they are doing, are they well presented, is the quote like for like?
I always tell people not to be afraid to call and ask questions and ask why I have or haven't included anything. The cheapest is very rarely the best.
What advice would you give to women thinking of becoming a plumber?
The same advice I'd give a man – it's all about being keen and it's easier to get an apprenticeship when you're younger. I'd say go and see potential employers on your own – don't rely on your parents for introductions – it goes a long way.
I don't think there's sexism in the industry anymore. I'd definitely like to see more women in the industry and customers can find them less intimidating to talk to.
What does being a member of WaterSafe mean to you?
I think it's great and I hope WaterSafe will evolve to be something like Gas Safe and a way for people to recognise reputable plumbers that have the knowledge and competency to do a job safely.
It's about trying to weed out the good from the bad – we need these bodies to be more of a force and tighter registration schemes – the standard of some of the work out there is disappointing.
I think some plumbers are a bit wary but if you know what you're doing you've nothing to fear and the schemes will help you as much as they can.
What are your plans for the future?
I'm on the hunt for a new apprentice and want to carry on building up the company, particularly in the Taunton area where we've opened the showroom and build on our work and reputation so far!
Quick-fire questions
Name three qualities that make a great plumber Knowledge, communication and practical skills.
Best way to unwind after a hard day's work? Going for a walk with my wife and the dogs and talking about the day.
Tea or coffee? Tea.
Fish & chips or curry? Curry. I'm really boring – it's chicken curry, rice and poppadum and sometimes a plain nan!
Plastic pipe or copper pipe? Copper.
Early bird or night owl? Both – I'm a morning person and drive my wife up the wall as I get out of bed happy.
Twitter or Facebook? Any social media accounts you recommend for the industry? Instagram
Self-employed or part of a team? Company director with small team
Pipework or paperwork? Pipework
Pipe wrench v spanner? Spanner – wrenches are a bit 'aggressive' – they can mark stuff up.