We're delighted to introduce a new regular feature for the WaterSafe website – a chance to get to know WaterSafe plumbers and find out what makes them tick.
We're getting started with Ben Robinson, managing director of B - A - R Electrical & Mechanical Services Ltd in Hemel Hempstead. See Ben in action as the star of our latest advice film on tastes and smells affecting tap water.
Fancy being a WaterSafe profiled plumber? Drop us an email at watersafe@create51.com.
–––––––––––––––––––––––––––––––––––––––––––––––––––––––––––––––––––––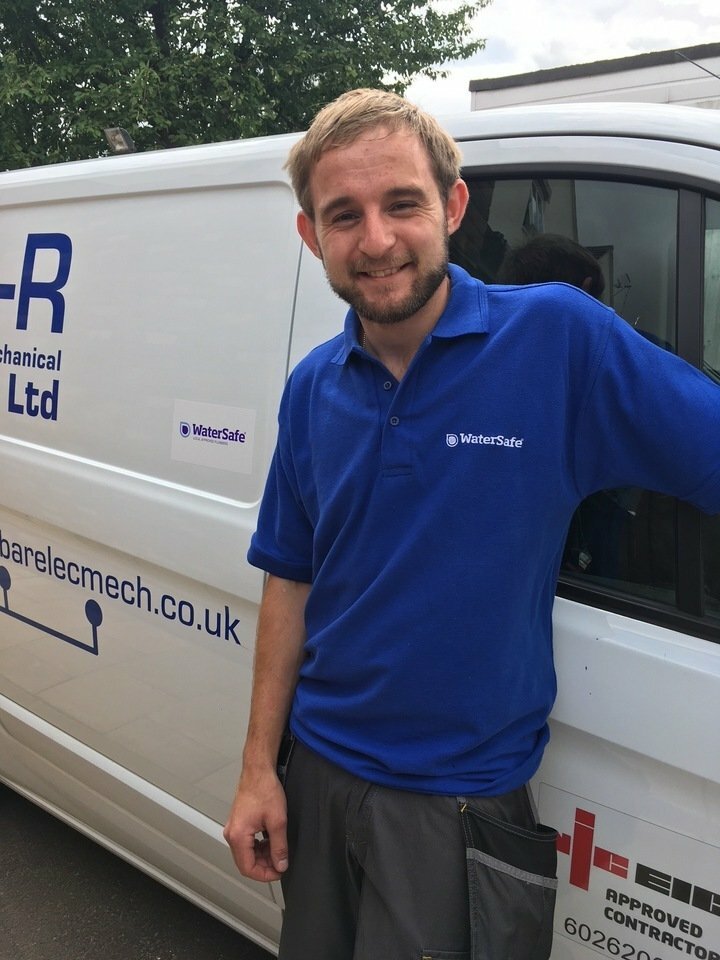 What got you started in the industry?
I initially trained as an electrician, hit the ground running and was out onsite before I left school – I knew it was the place for me to be. I started a company at about 17 and as things progressed (rapidly) we had a small team doing council work. We had everything ... except a plumber. We quickly found that good plumbers are as hard to come by as good electricians. So, I started training and working as a plumber and discovered I quite liked it! I did my gas qualifications, along with water regulations and G3 unvented and then the WaterSafe experienced worker qualification.
Describe a typical day in your working life.
Hear at least four alarm bells, get kicked out of bed, select my tools, load the van (nothing is left inside after my tools have been nicked three times!) and head to the first job.
Nearly make it there and get a callout, which throws my whole day out. Work until 6–8pm, head home and start my reports/fight the dog.
What do you love about the job?
The mechanical and electrical (M&E) industry is referred to as the dark arts of the building sector – I like anything that involves solving problems. I like it more when the competition has said something is impossible but you know it can be done!
What's the job you're most proud of?
I think my favourite job recently has been building a temporary boiler room in a trailer to tow to sites where boiler systems have over-stayed their welcome and failed beyond repair.
As a public sector contractor we get calls like this from schools, healthcare and council sites as soon as it gets cold. As the NHS is a cause I feel strongly about, I mainly built this temporary boiler room for their sites. We can tow it to site and hook it up to their systems to save the day!
I recently added a 170L Megaflo and bolted a big plate heat exchanger to it for a bit of a boost, it now gives hot water out at 90L a minute at 60 degrees! That's a BIG combi boiler.
It texts me if there is a fault, has a tracker, an alarm and can be remote controlled ... and all the wholesome water hoses are WRAS approved.
Can you bust a popular myth about plumbing/plumbers?
That all plumbing is about unblocking pipes – there are complete sub-sectors where you would never go near a blocked pipe!
Also, when I started in the industry I was told by an old-school electrician that " people will tell you there is a shortage of electricians, plumbers and heating engineers, that is rubbish – there has always been a shortage of good ones though." I can absolutely confirm that there is no shortage of tradesmen, but there are 90 bad to ok-ish ones in every 100 – hopefully WaterSafe can help people find the best!
What advice would you give to someone thinking of becoming a plumber?
The same advice I would give anyone looking at any career -– do something you love and you will learn faster, retain more information and emit enthusiasm. You will be noticed and never, ever short of work.
What does being a member of WaterSafe mean to you?
We (as plumbers, electricians and gas engineers) operate in an industry full of charlatans and cowboys, the regulation of which historically has been lacking or without teeth. Whilst the screws are slowly tightening they are not there yet – membership of schemes like WaterSafe and Gas Safe show that you are a cut above the rest – the customer can't be an expert in every trade so can't check their selected tradesperson's competence. But with a body such as WaterSafe they don't need to be. Those checks and audits are being done for them.
What are your plans for the future?
I'd like to start my degree in electrical engineering! And I want to help bring more of the right people into the general M&E industry. I feel that too much pressure is put on kids to go to university and get a degree for a job that isn't available (because they have 900 degree-qualified applicants for one post) or they hate – because they haven't tried the job.
I'd like to increase the work experience that kids get, maybe for a month, and for them to try at least three different jobs – maybe one engineering, one medical and one office-based or something like that. They can at least then look to further education with some idea as to whether they might enjoy the sector they've chosen.
Quick-fire questions
Name three qualities that make a great plumber Knowledge, reliability, attitude
Best way to unwind after a hard day's work? Playing Call Of Duty instead of doing paperwork!
Tea or coffee? Coffee until the age of 30, now I've started enjoying my tea....is that bad?
Fish & chips or curry? Curry, you can't have a lads' night out at the chippy, and they don't sell Cobra!
Plastic pipe or copper pipe? Copper!
Early bird or night owl? Night owl that does early starts, It feels like you've got so much more done
Twitter or Facebook? Any social media accounts you recommend for the industry? LinkedIn
Self-employed or part of a team? Director with a small team
Pipework or paperwork? Pipework
Pipe wrench v spanner? I love my 36" Rothenberger Stilsons – the 10" are also ok but nothing argues with the 36"s.