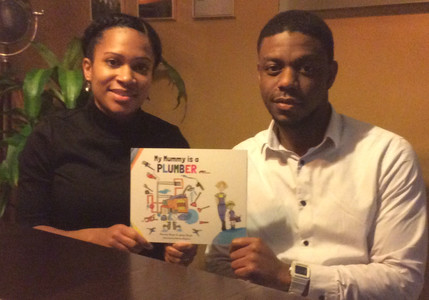 "As recently as February last year, the papers were shrouded with talk of a skills gap Britain hit by worst skills shortage in 30 years ... Daily Mail and UK needs plumbers,builders and engineers ... The Guardian). Amid all this talk Butterfly Books was moments away from its launch of career themed picture books to pro-actively widen children's views of future professions.

And so the 'My Mummy is a Plumber' and 'My Mummy is an Engineer' books were born, the former with the invaluable aid of experts at WaterSafe.
You may ask how picture books can make a difference to the future decisions of our youth. But just ask a six-year-old to describe what a plumber does, and what gender they would expect a plumber to be, and you have your answer.
Our aim was to create engaging books, which are both factual yet exciting, and also help to overcome gender stereotypes. Butterfly Books is about raising awareness of various careers and planting that seed that could potentially grow into the missing achievement our society is longing for.
Kerrine Bryan, the founder of Butterfly Books, has a background in engineering and is a STEM ambassador. She realised that as children we are simply just not made aware of what life truly has to offer in the workplace,regardless of gender.
As brother of Kerrine, co-author of 'My Mummy is a Plumber' and as a father to a young daughter, I'm all too aware of how little focus is placed on career variations at a young age and how gender ideologies play a huge part in the minds of both the young and the old.
So to bridge the gap in awareness, we've turned to illustration to make these subjects interesting to children at a younger age. We hope people enjoy 'My Mummy is a Plumber' and it plays its role in encouraging many more girls and boys to a rewarding career as a plumber."
Jason Bryan, Butterfly Books - Career-themed picture books, aimed at raising awareness of careers from a young age (three to seven-year-olds)