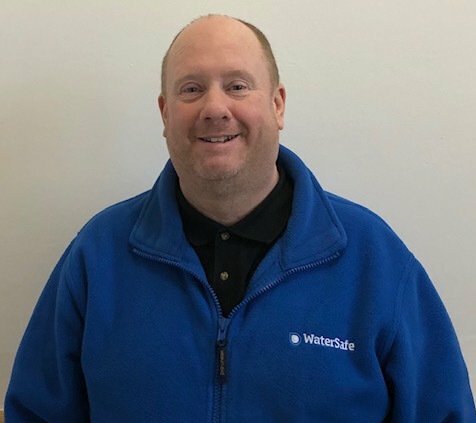 Meet WaterSafe plumber Adam Cullimore, one of the Welsh stars of our latest film, which highlights the many benefits of WaterSafe membership as we launch a recruitment drive for qualified plumbers in Wales.
____________________________________________________
What got you started in the plumbing industry?
The YTS (Youth Training Scheme) via the Construction Industry Training Board when I was 16-years-old – I wanted to learn a trade.
Describe a typical day in your working life.
Get out of bed at 7am, breakfast (orange juice, bowl of Rice Krispies – no sugar!). Arrive on site 8.30am-ish. My day can vary from fitting shower pumps, boilers and gas hobs to a full bathroom install. I have a spot of lunch around 1pm for 30 mins and I'm usually home by 6pm.
What's the best bit of the job for you?
I have three best bits: customer satisfaction, job satisfaction …. and getting paid!
What's the job you're most proud of?
I have installed many bathrooms over my 30 years within the trade and to be honest I'm proud of them all!
Can you bust a popular myth about plumbing/plumbers?
Yes, I make sure that my trousers are always covering my behind!!
Do you have any advice for young people entering the industry?
Do it – you learn a trade that's always in demand, you meet loads of unique people, it helps keep you fit and the money's not bad either.
What does being a member of WaterSafe mean to you?
It means a lot to me to be part of WaterSafe. As a recognised member it instills faith and trust in your customers that they have a professional undertaking the work on their behalf. My customers can be confident they will get a professional service and job done.
What was it like being part of the WaterSafe film?
I enjoyed taking part in the Water Safe filming, and promoting the WaterSafe message! I was a bit nervous and didn't know what to expect, however everyone involved was really friendly.
What do you hope it will do?
I hope it will encourage more people to join and help promote the WaterSafe ethos – good practice, safe installations and happy customers.
What are your plans for the future?
Keep going, I enjoy my work. (Until I win the lottery!).
Quick-fire questions
Name three qualities that make a great plumber: Hard-working, conscientious, flexible (to get into tight spaces).
Best way to unwind after a hard day's work? Watching rugby.
Tea or coffee? Coffee.
Fish and chips or curry? Curry.
Plastic pipe or copper pipe? Copper.
Early bird or night owl? Night owl, work late.
Self-employed or part of a team? Self-employed.
Pipework or paperwork? Pipework.
Pipe wrench v spanner? Pipe wrench.
Could you be our next WaterSafe profiled plumber? Drop us an email at watersafe@create51.com.