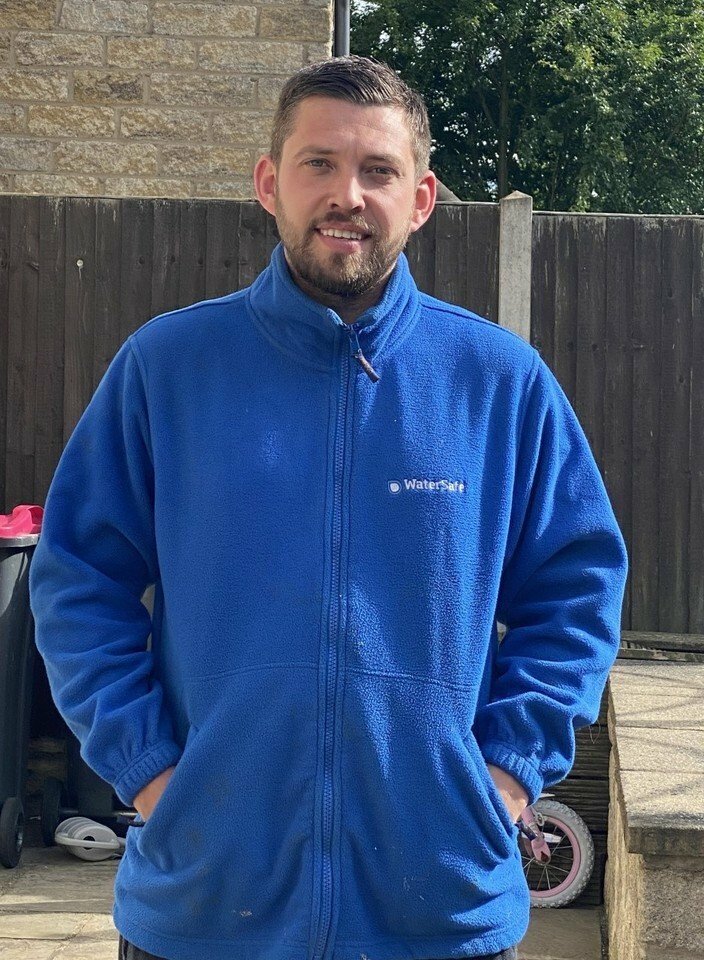 Meet WaterSafe approved plumber Damon Blakemore of Blakemore Plumbing & Heating, who shares his route to a career in plumbing and some solid advice for young people looking to enter the industry.
–––––––––––––––––––––––––––––––––––––––––––––––––
What got you started in the plumbing industry?
I got into the industry in a bit of a strange way, I left college with the intention of joining the army but changed my mind – I then went back to college to study law but ended up with a job in a factory making gas fires.
I then applied for a plumbing and gas apprenticeship at Rotherham Council after my Mum was pestering me saying I was wasting my life. The rest is history.
Tell us about your business
I worked at the council as a plumber and gas engineer for 15 years then wanted to set up on my own as I really enjoy my work and industry.
I am a sole trader and have built a client base through my reputation. I am WaterSafe approved, Gas Safe registered, G3, Hetas, Nest Pro, an APHC member and a Honeywell Connect installer. Also I am the latest ambassador for the Gas Safety Superheroes team for Sheffield.
Describe a typical day in your working life
My day currently is very different just due to my work load, I leave at 7am and get done at 7pm, no breaks just a straight graft all day. Currently boiler installations have taken over my life.
What's the best bit of the job for you?
I love designing, installing and problem solving.
How has Covid-19 affected your business?
I took four months off from April until August last year due to having two young girls and my wife being a midwife. Since then it has been non-stop and I've never been as busy so it's fair to say Covid-19 hasn't cost me work.
What's the job you're most proud of?
The job I am most proud of at the moment was a Viessmann 111 that I installed last year. It had a 20kw heatloss and I got it down to 10.6 by playing with insulation levels. I also designed the system to run at 55° @ -2 to keep the boiler condensing all year round and fitted a bidet with the correct cat 5 protection.
Can you bust a popular plumbing myth?
"If the package says something is flushable it's okay to flush." No it's not! Only flush toilet paper.
Do you have any advice for young people entering the industry?
Getting work placements and apprenticeships is hard at the moment, don't give up or let this get you down – keep banging on the door.
Get on Twitter and Facebook and join forums, read books, learn the basics in theory and then learn more. Take in everything you can and eventually you will catch a break.
What does being a member of WaterSafe mean to you?
Being a member of WaterSafe sets me apart from other engineers around me and shows my potential customers that I am qualified, have credibility and am an approved plumber. It shows that they can trust me to do things correctly when it comes to water issues.
What are your plans for the future?
Renewables – I'm currently deciding which approach to take.
Quick-fire questions
Name three qualities that make a great plumber Learning, patience and problem solving.
Best way to unwind after a hard day's work? Playing Mario Kart with my two daughters.
Tea or coffee? Tea (Two sugars but don't tell my wife).
Fish and chips or curry? Depends if it's lunchtime or tea time.
Plastic pipe or copper pipe? Copper pipe.
Early bird or night owl? Night owl.
Twitter or Facebook? Twitter. I follow @betateachpod and @_heatgeek
Self-employed or part of a team? Sole trader.
Pipework or paperwork? Pipework.
Pipe wrench v spanner? Spanner.
___________________________________________________________________
All WaterSafe approved plumbers are supported and promoted by their local water company. To find out more about the benefits of WaterSafe membership visit watersafe.org.uk/howtojoin.