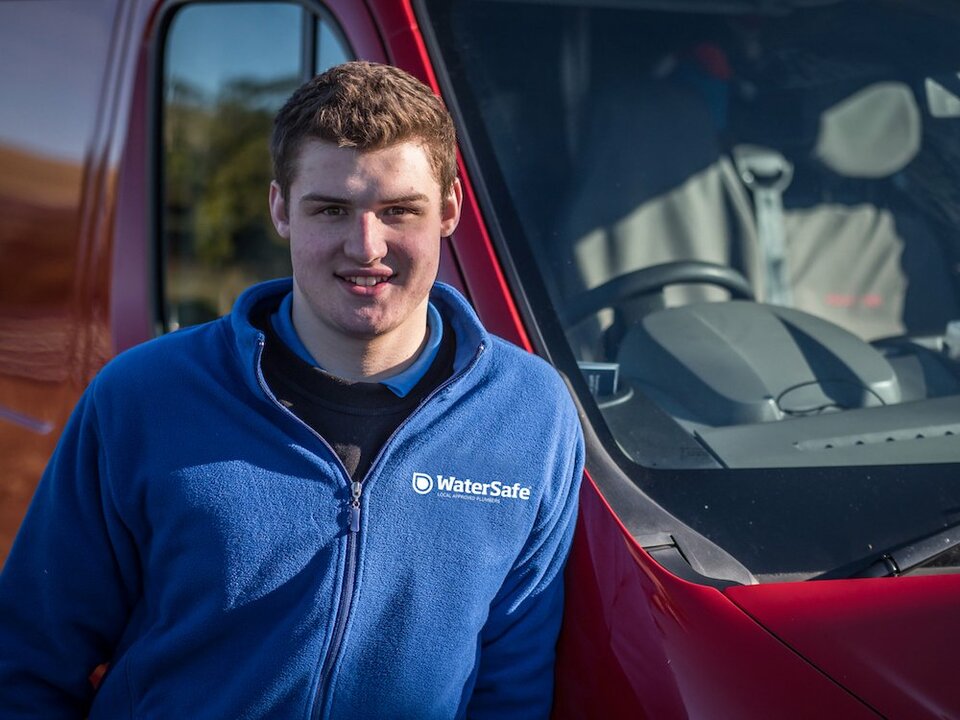 Twenty-one-year-old apprentice James McCall-Smith, current champion of the plumbing competition SkillPLUMB, shares advice for future plumbers for National Apprenticeship Week (4-8 March).
Tell us about your apprenticeship. I'm in my fourth and final year of my apprenticeship, which I'm spending on the tools with my employer, Derek Scott Plumbing & Heating in Aberdeenshire. The first three years were a combination of college study and work-based training – the mix works well and kept me engaged and motivated – although I prefer tools to textbooks!
Any advice for anyone considering a plumbing apprenticeship? I did lots of research online and got to know all about the local companies. Get your CV out there and don't be afraid to approach people directly – be proactive and enthusiastic, take the initiative.
It helps to have a CV that stands out – at 16 I spent a week volunteering in a Romanian orphanage in my summer holidays, which I arranged myself. I also play rugby, which shows future employers I work well in a team. An interest in sports shows you're fit and active, which helps in the job.
Work experience of any kind is useful. When I was 15 I did work experience with an architect firm, which really showed me I didn't want an office-based job.
What's great about apprenticeships? Getting paid to learn is a huge plus for me –you don't finish your training with a large debt. A good employer will look after you and often give you a job at the end of your apprenticeship. It gives you a sense of security.
What are the top three qualities you need to be a good plumbing apprentice?
1. A good listener – able to learn from and take direction from your colleagues.
2. Trustworthy – your boss needs to be able to trust you to get on with the job unsupervised, to take care of expensive equipment, like the company van.
3. Practical – you need to enjoy fixing things, working with your hands and not mind getting stuck in! My farming background set me up well, but sometimes people from the city struggle with the practical side of things.
Were you ever tempted to do a fast-track course? No – there's no substitute for proper training and you won't gain the right qualifications without it. What you can learn on the job you won't always find in a textbook.
Why have you chosen a career in plumbing? I love the broad variety of work in plumbing – I had thought about being an electrician but decided it was too fiddly!
Your employer is a WaterSafe approved business – what does this mean to you? It reassures your customers that you're qualified to work safely with their drinking water. After all, people's health can be at stake so it's important to be fully qualified and registered.
What are your plans for the future? Stay on with Derek for a few years to get more experience and eventually go self-employed and into property developing like my dad. The plan is to reduce my costs by doing all the plumbing work myself, so I'm eager to learn as much as I can.
_____________________________________________________________________
To find out more about training to be a plumber and for the qualifications you need to become WaterSafe approved visit watersafe.org.uk/becomeaplumber.
For information on apprenticeships visit: gov.uk/topic/further-education-skills/apprenticeships.
For more on plumbing apprenticeships in Scotland, including how to take on an apprentice and available funding, visit the SNIPEF website at becomeaplumber.com.
For information on plumbing apprenticeships in Northern Ireland visit: nidirect.gov.uk/campaigns/apprenticeships.
For information on apprenticeships in Wales visit www.careerswales.com.