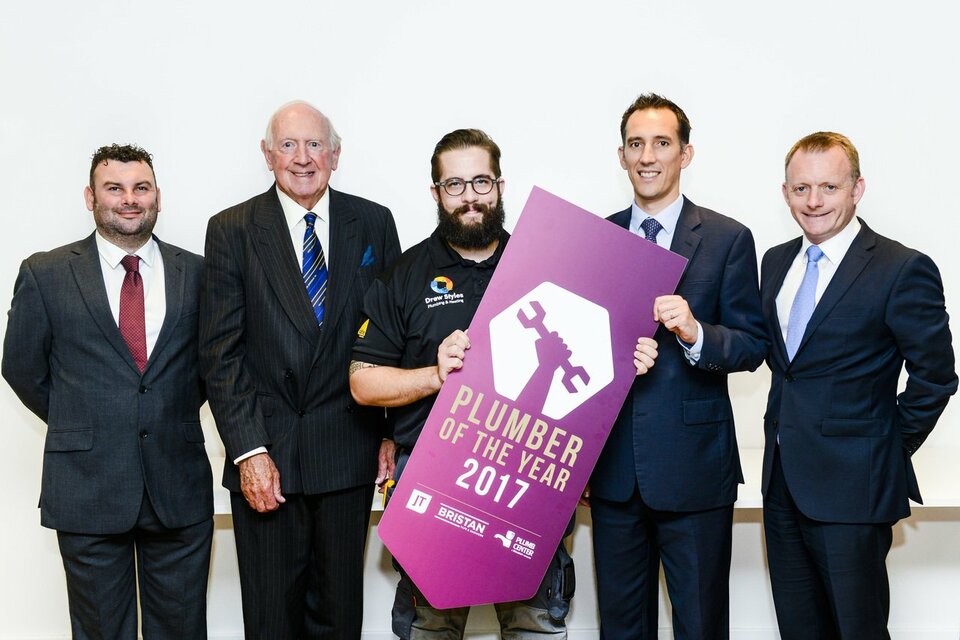 The winner of the UK Plumber of the Year 2017 was announced in September as Drew Styles, a fourth-generation plumber from Lancashire.
For the first year, WaterSafe joined the competition as an official judging partner, selecting a shortlist of 15 plumbers from a record number of applications and helping choose the winner from the five who went forward following a public vote.
WaterSafe chairman Chris Sneath shares his thoughts on why Drew makes a worthy winner – as well as the important industry issues raised during the competition:
It was a privilege to participate in the judging of the finalists. Listening to the presentations of all five, we were impressed with their all-round experience and knowledge of their trade.
They conveyed a confidence in their qualifications and their depth of skills covered a wide range of current technology and up-to-date products. There was also a good support and knowledge of WaterSafe through membership of both CIPHE and APHC.
All the contestants were very strong on education and training and the need to take on apprentices whenever possible and it was clear they wanted to put something back into the industry.
However, all the candidates also emphasised their concerns about the level of teaching in colleges and the poor level of skills and knowledge they saw in applicants seeking apprenticeships with them.
The winning contestant, Drew Styles, was exemplary in covering every aspect of plumbing and a truly marvelous advert not only for the sector and Industry, but for young people wishing to enter the plumbing trades.
One of the contestants was also inspiring in his specialist work installing bathroom mobility aids for both people with disabilities and the elderly.
What I found so very interesting was what I gained from discussions with the other judges representing the manufacturing and supply side of the plumbing Industry.

The points they raised emphasised the need for us all to improve communication about the current issues and needs of our industry.
*The other finalists in the competition were: Tom Jenkins from Treorchy, Paul Maguire from Glasgow, Thomas Foster from Dundee, and Gareth Lloyd from Hereford.