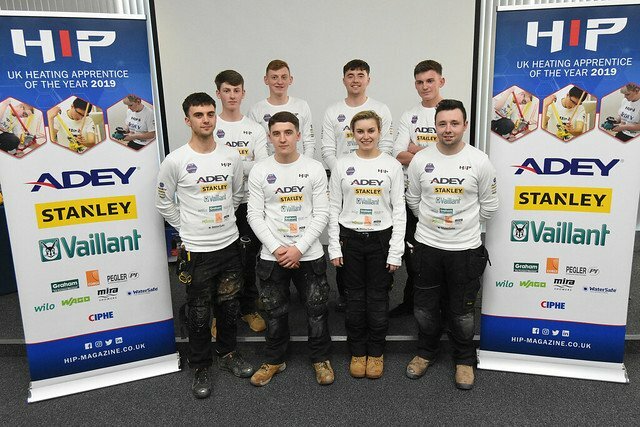 Gareth shares his thoughts as a judge of the recent final of this year's UK Heating Apprentice of the Year competition organised by HIP Magazine. Many congratulations to the winner, Lewis Blakely of Coleg y Cymoedd in Wales.
"The eight finalists were an exceptional group, in many respects. A friendly and engaged group who are a credit to themselves, their lecturers and their families. Each and every one of them was a pleasure to talk to.
As for the standard of work – outstanding from all eight. Each one completed a very difficult task that included a boiler and heating controls; a shower and toilet and a radiator and underfloor heating. I would have been pleased to have finished the task in the allotted time – a challenging 12 hours over two days!
Standing back and looking at each of the completed jobs it was difficult to pick the winner, and in the end it would take the five judges two hours to get to a final decision. It was definitely the nitty gritty that was going to make the difference.
Lewis, the eventual winner (pictured front row, second from left), was quiet and unassuming. There was genuine shock and emotion on his face – and his lecturer's – when his name was announced and his prizes were well deserved!
That said, credit once again to each of the competitors. They should all go away with their heads held high and hopefully they will have learnt from the experience and it will stand them in good stead for the future.
The industry is in goods hands if this is the calibre of student that today's colleges are producing!"
Congratulations to all the regional finalists: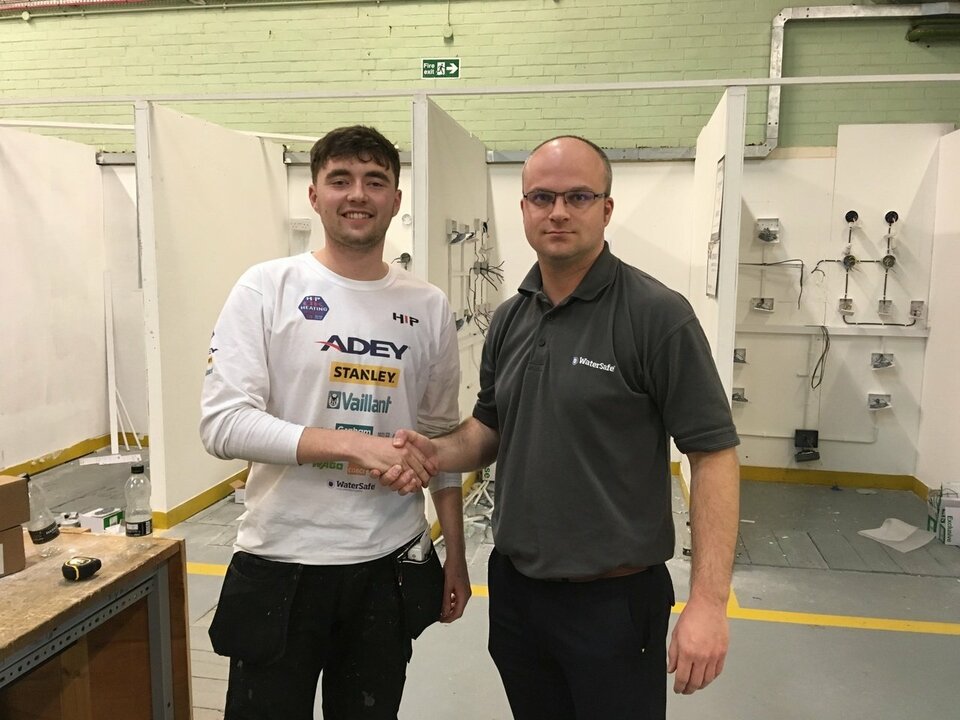 Wales – Lewis Blakely, Coleg y Cymoedd (Winner)
Ireland – Leonard Keown, South West College (Runner-up)
North East – Ben Fairbairn, Northumberland College
North West – Edward Jackson, Bradford College
South West – Ryan Fellowes, South Gloucestershire and Stroud College
Midlands Max Murless, Rotherham College
South East – Isabella Stagg, West Suffolk College
Highest scoring runner-up – Joseph Worthington, Petroc
Finalists pictured back row left to right: Joseph Worthington; Edward Jackson; Ben Fairbairn; Max Murless. Front row left to right: Ryan Fellowes; Lewis Blakely; Isabella Stagg; Leonard Keown.
_________________________________________________________________
Thinking of becoming a plumber? To find out more about training and the qualifications you need to become WaterSafe approved visit watersafe.org.uk/becomeaplumber.
For highlights of the competition visit hip-magazine.co.uk.