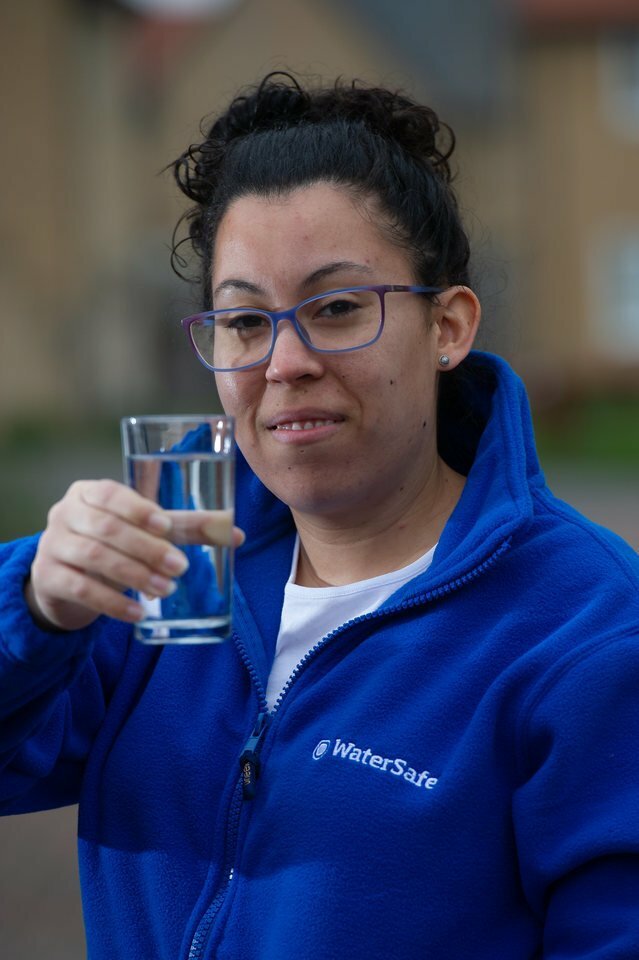 Meet Hannah Dorkenoo Leggat, who joins us for a #GetGirlsPlumbing special and explains why the best decision she ever made was to become a plumber.
Fancy being a WaterSafe profiled plumber? Drop us an email at watersafe@create51.com.
–––––––––––––––––––––––––––––––––––––––––––––––––––––––––
What got you started in the industry?
I was always a lover of the practical subjects at school: art; music; Design Technology … so I knew I wanted to do something practical for work. I thought to myself, what career can earn me the most amount of money?! Electrician or plumber? I initially wanted to be an electrician, but when it came to filling out my application form for the college course I accidentally put plumber as my first option, so I thought ah well, I'll be a plumber then. I guess you could call that fate!
Describe a typical day in your working life.
A typical day will be me reluctantly getting up at the sound of my alarm, getting dressed and ready for work. Have to have breakfast and a cuppa in the morning, and allow myself some time to wake up (I am not a morning person). Look at my list of jobs for the day, roll my eyes at the thought of work, jump in my van and get on the road to the first customer. The rest of the day is just me running through my list of jobs trying to get all the work completed for the customers.
What do you love about plumbing?
I love a challenging job, one that you have to really think about, and the best feeling at the end when you've managed to resolve the issue, leaving a happy customer.
What's the job you're most proud of?
I always like to go to customers that are slightly panicked (as bad as that sounds) because there is also a sense of relief when I arrive. One that sticks in my head is a customer that had a leak on her heating pipes under her floor – a couple of plumbers had been to her house and fixed a number of leaks in separate areas. I thought the best plan of action would be just to re-route all the pipework and surface mount it, the customer was happy with this solution. Got a few of my colleagues together and ended up working a 16-hour shift but also ended up with a happy customer, who bought us all fish and chips for our troubles.
Can you bust a popular myth about plumbing/plumbers?
When your toilet, or tank in the loft is making an awful noise, it is not an airlock! This is known as 'water hammer' and usually caused by worn washer rubbers and poorly clipped pipework.
What's your experience of being a female plumber in the industry?
I get told a lot by customers that 'it's unusual to see a female plumber', or 'it's not very often you get a female plumber', but when deciding that I wanted to be a plumber at the age of 15 this never crossed my mind.
Skip ahead a few years and I am now a qualified plumber working for a maintenance company, going into customers' houses fixing their emergency issues and plumbing faults, getting asked 'how long have I been a plumber?'. I love those kinds of customers because they take a genuine interest in what I do, which sometimes even inspires people.
As for being a female it has its advantages too. I have been to elderly customers' houses late at night, and the first thing they have said to me was: 'I'm so glad you're a woman as I was dreading a man coming'. I am fairly short too so it means I can get into some tight spaces that a stocky bloke might not be able to.
What advice would you give to someone thinking of becoming a plumber?
Any young person who wanted to get into plumbing I would always encourage it as it is such a rewarding job. You get to meet so many different people, some with so many amazing stories. The best decision I made was to become a plumber!
What does being a member of WaterSafe mean to you?
Being a member I feel is important – so many people now think they're 'plumbers' because they can put together two pipes. There's more to the job than just that –people's health can be potentially at risk if they use unqualified plumbers.
Quick-fire questions
Name three qualities that make a great plumber. Problem solving, not getting stressed, being able to speak to the customer in a reassuring way.
Best way to unwind after a hard day's work? A nice hot bath, with a glass of wine.
Tea or coffee? Tea at home, coffee at customers' houses (harder to get wrong).
Fish & chips or curry? Curry, do like a nice hot one.
Plastic pipe or copper pipe? Depending on the situation, but mostly copper.
Early bird or night owl? Night owl.
Twitter or Facebook? Any social media accounts you recommend for the industry? Facebook: Bad Plumbing is a funny one to look at, Plumb Chat is always full of useful tips, and there are thousands of other plumbers on there who can give a helping hand with queries.
Self-employed or part of a team? Part of a team, I like to shut off when I go home.
Pipework or paperwork? Pipework.
Pipe wrench v spanner? Impact driver.