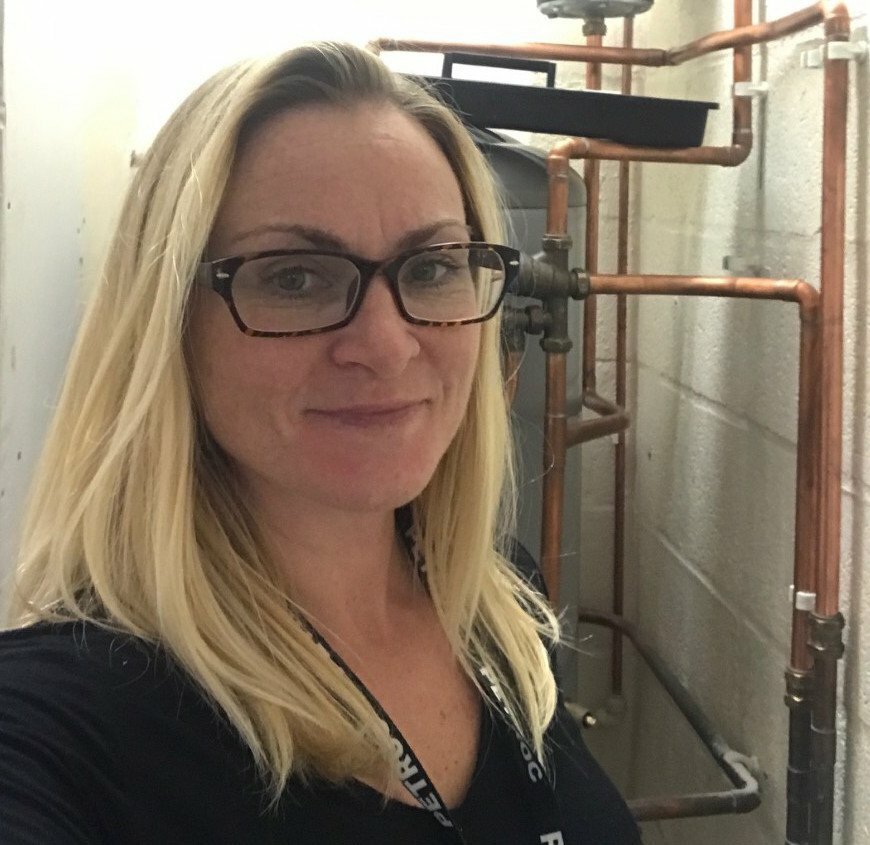 Plumbing student
Rhiannon de Wreede
already has scientist, lecturer and writer in her list of credits and is busy working towards one more –a level 2 plumbing diploma from Petroc College in Barnstaple, Devon.
––––––––––––––––––––––––––––––––––––––
What led you to a career in plumbing?
Figuring out the right way to fix a dripping tap and leaky toilet in my en-suite bathroom (with the help of my local plumbing merchants), and the satisfaction this gave me, was the start of me thinking about a career in plumbing.
I was looking for a future career that utilised my practical skills, while also giving me the flexibility to work for myself and around my family.
My previous work as a scientist, specialising in cell biology, was all about figuring out how things work and finding solutions to problems, and this is what I also love about being a plumbing student.
An apprenticeship wasn't for me but the level 2 plumbing diploma I started in September works well at one day a week – it's pretty full-on but I love it!
I went away to a lovely B&B recently and couldn't stop myself from looking under the sinks to check out the plumbing …
Describe a typical day as a plumbing student
We get started at 9am with three hours of practical, followed by three hours of theory and another four hours of practical. We're just learning about drainage and I'm studying the electrical components module at the moment. I definitely prefer plumbing to electrics.
What's the best bit of the course for you?
I really enjoy the practical element of the course – the theory, not so much! I've noticed that a lot of tradespeople are brilliant at the practical side of things but not so good at the theory … the scientist in me is interested in how people learn in different ways. My daughter is dyslexic and I think I may be too, although I'm not diagnosed.
And the most challenging?

Bending copper piping, I'm OK with 15mm but 22mm is tough….
What's the skill you've learnt that you're most proud of?
So far (I'm 11 weeks in with another 19 to go) it's soldering! It's very satisfying.
Do you have any advice for people that are thinking of following a new career?
Ask lots of questions first and once you have a plan, stick to it, follow things through all the way, no shortcuts. I find that being older I'm juggling more – my kids, part-time work – this makes me really focussed though, so when I'm studying I'm giving it my all.
What advice would you give to women thinking of becoming a plumber?
Speak to other women, I had lots of help from The Plumbher in Bristol . Look for female apprentices and plumbers on social media, Stockcocks for example. Be confident.
Despite a bit of negativity about plumbing being 'a young man's job' – and I'm neither of those things! – I've found generally that male plumbers have been really encouraging about more women joining the industry. Having said that – I'd like to be known as a good plumber, not a female plumber.
Do you plan to take a Water Fittings Regulations qualification?
Yes, I'm keen to be the best plumber I can be.
What would being a member of WaterSafe mean to you? Do you plan to join?
Yes – it definitely makes sense to have the WaterSafe stamp of approval. I feel it will help me as a self-employed plumber in the future to reassure customers that I'll do a competent, safe job. It's nice to feel in good company too, part of a wider group of qualified plumbers who are proud of their skills.
What are your plans for the future?
An NVQ Level 2 plumbing and heating qualification is the next step. However finding a plumber willing to support me in my NVQ with supervised training is no easy task.
I'm interested in talking about a more secure way to get supervised work to gain your NVQ. The set up seems a bit informal and reliant on 'favours', which is great if you can find someone, less good if you can't. There seems to be a bit of a gap in the industry and as a more mature person I know I'd be less attractive to a company.
I'm not opposed to working for a company in the future but feel it's more likely I'll be self-employed so I can create a good work/life balance for myself and my family.
Quick-fire questions
Name three qualities that make a great plumbing apprentice: Patience, confidence and enthusiasm
Best way to unwind after a hard day's study? Netflix
Tea or coffee? Coffee
Fish and chips or curry? Curry
Twitter or Facebook? Any social media accounts you recommend for the industry? Facebook for personal stuff and Twitter for professional. I follow @plumberparts, @TradesTalk, @betateach and @Stopcocks on Twitter.
Would you prefer to be self-employed or part of a team in the future? Self-employed for the flexibility
Pipework or paperwork? Pipework!
Pipe wrench v spanner? Spanner
Plastic pipe or copper pipe? Copper
Keep up with Rhiannon's progress in the plumbing world via her blogs at rhiannondewreede.co.uk/blog and hip-magazine.co.uk/tag/rhiannon-de-wreede.