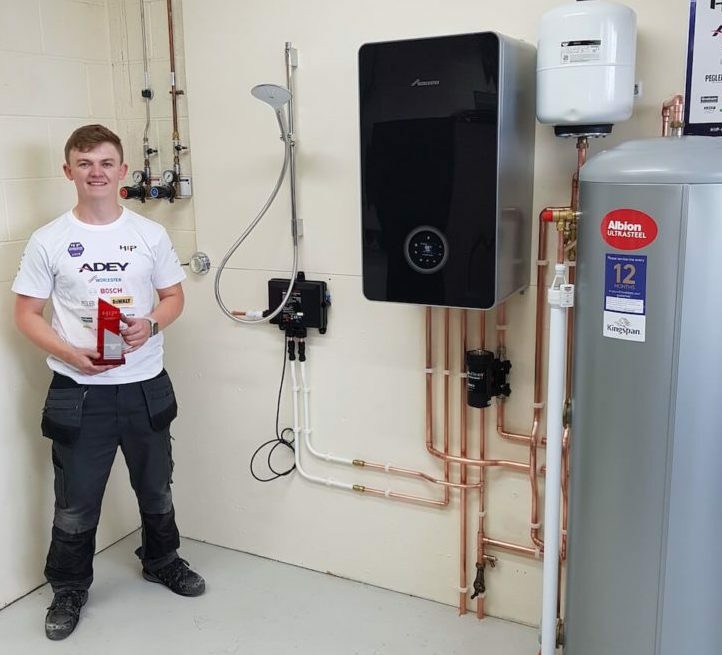 Thomas J Thomas, 22-year-old winner of the HIP Apprentice of the Year 2020 competition, shares advice with WaterSafe during National Apprenticeship Week (8-14 February 2021).
What do you think makes a great apprentice?
As an apprentice, you're not expected to know everything – but taking initiative and showing an eagerness to learn, to work at a high standard and get hands-on goes a long way!
Tell us us a bit more about your apprenticeship
I had no idea what I wanted to do when I finished secondary school and I had next to no idea what plumbing was, but I knew I didn't want to work an office job as I like to be out and about. I decided to give plumbing a go and began my apprenticeship as soon as I finished school when I was 17. I started at level 1 to make sure it was what I wanted to do. I haven't looked back since! It's a long process to become fully qualified but in the long run, completing an apprenticeship ensures you a job for life.
Any advice for those considering an apprenticeship?
Definitely be proactive in approaching local businesses and sole traders to take you on – your college can advise you too but contacting people directly, being proactive and letting them know that you're enthusiastic and willing to learn is a great start.
How did it feel to be crowned HIP Apprentice of the Year 2020?
The experience as a whole was incredible, you really do get tested on your technical skills down to the finest detail all throughout the competition, which is great for your CV. It shows you have the ability to work at a high standard and take the initiative to enter the competition. Winning the competition was amazing and I was very happy with the result!
What have you been up to since winning the award?
I work for a large plumbing and electrical company based in North Wales, AER Cymru, who I've worked with since I began my apprenticeship five years ago. I've been working on various new build projects since the competition and I've also been continuing my NVQ level 3 to become a fully qualified plumbing and heating engineer.
Any advice for this year's contestants?
Make sure you have a full and clear understanding of the drawing you are given before starting the task and ask as many questions as you need to so you don't make any mistakes during the competition. It's VERY easy to misinterpret a drawing in a high-pressure situation so take your time to familiarise yourself with the project and plan exactly how you are going to approach it from start to finish.
How has Covid-19 affected your studies and work?
In March 2020, the company I work for like many others closed due to Covid-19, excluding any essential emergency callouts. I was on furlough for three months and college was closed for longer. It has definitely delayed my progress on my NVQ level 3 with collecting on-site evidence, however everybody is in the same situation.

What's your favourite aspect of plumbing so far?
The variety of work that you can do in a week or even a day – it keeps the job interesting and there is always something new to learn. I mainly enjoy doing callouts and repair work however I do also work on new build projects and commercial sites.
What are your plans for the future?
I would like to run a plumbing company of my own one day, but that's a long way away!
What are your thoughts on the WaterSafe scheme?
I believe WaterSafe should be a requirement to complete any plumbing work that is connected to the mains water, just like Gas Safe is for gas. Although drinking water may not blow up, if it is somehow contaminated with foul wastewater due to poor workmanship it can become very dangerous. Using a WaterSafe approved plumber gives the customer an assurance that the work being completed is of a high standard and helps prevent unqualified plumbers from putting a customer's water supply at risk.