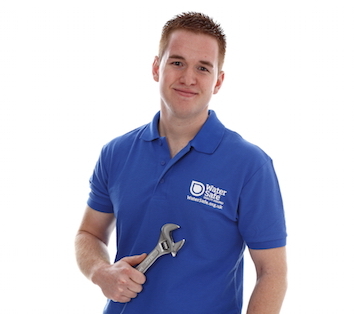 When undertaking any plumbing work, either scheduled or emergency, it's important to take a planned approach in order to get a good plumber who delivers what you need; and to protect yourself from rogue traders and the consequences of sub-standard, potentially dangerous, work.
John Peerless, Principal Trading Standards Officer at Brighton and Hove City Council, and a former Chair of the Chartered Trading Standards institute, shares his tips for choosing and hiring the right plumber for your project:
We all want to have a worry-free experience when hiring a plumber to complete work on our homes and businesses, but many consumers simply don't know enough about the process to feel comfortable. By following a few simple guidelines, you can be sure you're hiring the right person for your job and protecting yourself from unscrupulous traders and businesses.
Firstly, you'll want to identify the plumber you'd like to employ and verify their credentials. If you've used the WaterSafe postcode search, you're guaranteed that the plumber you've found is accredited as a member in good standing of their trade association.
Why? WaterSafe have already done the vetting for you. The alternative is you'll need to call the trade association yourself to validate the plumber's claim to its membership.
That's why I'm delighted to be part associated with WaterSafe, advising its Board of Directors on consumer protection issues. As a consumer, you can be reassured that WaterSafe approved plumbing businesses are fully qualified to carry out plumbing work in homes and business premises. They are specifically trained in Water Fittings Regulations, which enables them to ensure there should be no risk from poor installation or sub-standard materials that could cause contamination of the drinking water supply.
WaterSafe approved plumbing businesses must also adhere to the WaterSafe code of conduct and customer commitments – where they fail to meet these standards, a disciplinary process applies. Furthermore, a WaterSafe approved plumbing business which fails to uphold the standards will be subject to a range of penalties; in serious cases, this would result in its membership of WaterSafe being revoked.
You may also choose to get referrals or references. If possible, always ask to look at the work done, and be wary of any refusals or delays.
And one final piece of advice, always pick a plumber who will provide:
A physical address,

A contact telephone number,

An established time in business,

Their WaterSafe Registration, and

Their Gas Safe Registration (if they work on gas systems)

Even reputable tradesmen can make mistakes, so be sure that you have sufficient information to contact them if things go wrong so they can put it right.
Read John Peerless's tips for how to make your working relationship with your chosen plumber water tight here.