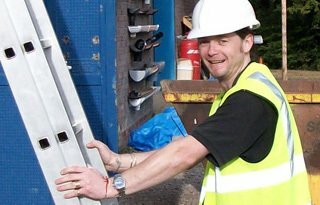 Meet WaterSafe plumber Paul Welsh of PD Welsh Plumbing in Ramsgate, who shares his path to plumbing and how his business benefits from the support of his local water company.
––––––––––––––––––––––––––––––––––––––––––––
What got you started in the plumbing industry?
I've been a qualified plumber for around 10 years – I was inspired to become a plumber after the death of my father, who was a plumbing and heating engineer. I'd originally trained as a mechanic but ended up working in an office, which wasn't for me, so I decided to follow in my father's footsteps. I kept on working whilst retraining – a combination of distance learning and residential courses.
Tell us about your business
I'm a sole trader based in Ramsgate, Kent. One of my tutors had suggested advertising in a local church newsletter and now I do a lot of work for local churches and their parishioners, so it was a great tip! It's a close network so once you've got a good reputation established you pick up a lot of word-of-mouth recommendations.
Describe a typical day in your working life
No two days are the same, which is what I enjoy about the job! Pre-Covid I got a lot of work through Southern Water, who recommend WaterSafe plumbers. I also worked with them on their 'leaky loo' scheme, helping to fix leaks for their customers.
How has Covid-19 affected your business?
Terribly, there's been a severe lack of work. I've found that my customers fall in to two camps – those that have postponed any type of work at the moment and those that are happy for me to carry on usual, with the necessary precautions in place to keep everyone safe. An ideal job for me recently was two days work in an empty house, but work is too quiet at the moment.
What's the best bit of the job for you?
The job satisfaction of helping people is a huge plus in plumbing. Recently I did a job for an elderly customer whose outdoor tap wasn't working – it was at least 50 years old so she presumed the tap would have to be replaced. It was actually a great tap, and once I'd serviced it, it was as good as new. I always prefer the challenge of repairing, not replacing – which usually works out cheaper for the customer.
Do you have any advice for young people entering the industry?
Be under no illusions – it can be a dirty, smelly job at times! Make sure you're customer focussed too – it's really important to be a people person, to enjoy communicating and able to reassure customers if they are panicking about a plumbing emergency.
What does being a member of WaterSafe mean to you?
I signed up to WaterSafe soon after qualifying – for me it's an important way of showing customers that they can trust me and my work.
Quick-fire questions
Name three qualities that make a great plumber: Patience, adaptability and being a people person.
Best way to unwind after a hard day's work? Walk the dogs and a pint (if only!).
Tea or coffee? Tea.
Fish and chips or curry? Fish and chips.
Plastic pipe or copper pipe? Copper.
Early bird or night owl? Neither!
Twitter or Facebook? Facebook if I had to choose but I don't use social media much for business. Most of my work comes via word-of-mouth.
Self-employed or part of a team? Self employed but having friends in other trades is very helpful.
Pipework or paperwork? Pipework.
Pipe wrench v spanner? Spanner.
___________________________________________________________________
All WaterSafe approved plumbers are supported and promoted by their local water company. To find out more about the benefits of WaterSafe membership visit watersafe.org.uk/howtojoin.