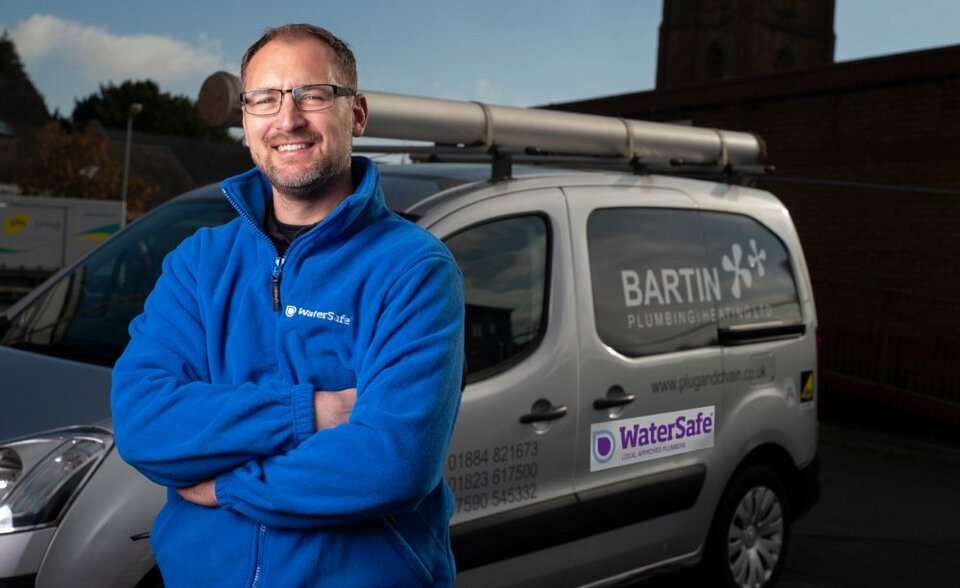 Super plumber Steve Bartin shares his top tips on protecting your home's plumbing from winter weather. As the UK Plumber of the Year 2018, the Taunton-based WaterSafe approved plumber knows a thing or two about helping homes beat the freeze.
Steve says:
"Don't be left wishing you'd finished those little jobs around the house before it's too late! It could cost you more than just a call out for a plumber if a small problem develops into a big problem.
It's not too late to insulate
Have a look in your loft – if you have storage tanks or pipes make sure everything is well insulated to help prevent them from freezing and bursting. Don't forget pipes in unheated areas like garages and outbuildings.
Fix those leaks and drips
Sort out any dripping overflows from loft tanks and toilets or safety pipes from appliances urgently! These problems need to be sorted – not only is this costing you money and wasting water, but if that puddle created on the path from a leaky outside tap freezes, you or someone else could easily slip and get seriously hurt.
Leave your heating on low if you're going away
About 14 degrees centigrade should keep water circulating in your pipes in very cold weather – if you're going to be away for a while, turn off your water supply and drain the system.
Find your stop tap
Finally know where your stop tap is! Should an emergency occur you will need to turn the water off quickly. You'll usually find it under the kitchen sink, but it can also be in an airing cupboard or under the floorboards near the front door.Make sure the stop tap is easily accessible and that it works!
Some of these jobs may be something you could undertake, but for peace of mind use WaterSafe, the UK register of approved plumbers, to find a qualified plumber in your area that can undertake the work required to keep your home safe this winter."
Why use a WaterSafe plumber?
WaterSafe is a central register supported by all water companies and the seven Approved Contractors' Schemes in the UK. All recognised plumbers have specific training in Water Fittings Regulations and Byelaws, which helps prevent the riskof contamination of drinking water.
For more advice on protecting your property's plumbing visit watersafe.org.uk/winter.
WaterSafe supports the wider `WeatherReady' campaign, which is run by the Met Office on behalf of the Cabinet Office, visit metoffice.gov.uk/weatherready.