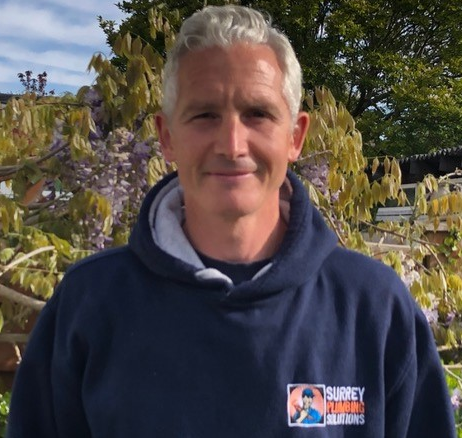 Meet WaterSafe member Lee Ekins in a seasonal plumber profile as he shares his top tips for homeowners to get plumbing prepared for cold winter weather.
What got you started in the plumbing industry?
I started working as a plumber at 16 doing my City and Guilds at Croydon College. I completed my level 2 and advanced level 3 (2000) and wanted to keep going to elevate myself as much as possible, which led to an HNC in Building Services Engineering, so I could cross over from trade to management. This saw me take on some interesting jobs in London, from working in Harrods to Gordon Ramsey's restaurant in Chelsea.
I switched to self-employed plumbing in people's homes in 2008 and started my own business, Surrey Plumbing Solutions in 2011.
Describe a typical day in your working life
I'm not sure there is any such thing as a typical day! I have a really varied workload and can be installing boilers or bathrooms etc. I do find myself all over the district in all types of properties.
What's the job you're most proud of?
Many years ago, I did some work at the Victory Services Club in London. It was humbling to see the ex-servicemen make full use of what we had done there.
How does winter weather affect your work?
The main issue with winter weather is the increased workload, which can be difficult to manage. We do always try to prioritise the vulnerable without heating or hot water, or those who have leaks.
Do you make any adjustments for winter weather?
The obvious adjustment is to just allow more time for getting to jobs. Getting the van defrosted takes time and I'm very careful on the lanes round here that are really dangerous in the ice. Many years ago my poor van ended up on a local common after hitting some black ice.
What are your top tips to homeowners for preparing for winter?
The really obvious one is please get your boiler serviced in the summer. A boiler that has been well maintained is likely to have fewer problems, and as this time of year is so busy, it is hard for me to schedule in servicing when there are urgent works.
Also, just check any exposed pipework in unheated areas such as lofts, roofs, garages and outbuildings. A bit of insulating lagging can save many issues, and with DIY stores classed as 'essential' retailers it's easy to get hold of even during tighter Covid-19 restrictions.
A local stables nearby have had issues most winters and we have replaced the old copper pipes with plastic ones and lagged them. This has helped avoid the bursts we have seen in previous years.
Don't forget to check that outdoor taps and valves aren't leaking, as these can also freeze and burst.
Knowing where your stop cock is (also known as a stop tap) – and checking that it works – is also really important in case you need to turn off your water in an emergency such as if a pipe bursts. You'll usually find this under your kitchen sink but it can also be in an airing cupboard or under the floorboards near the front door.
What does being a member of WaterSafe mean to you?
I joined WaterSafe because I felt it was really important to show we are professional and up-to-date with all regulations. We also felt it would provide customers with a degree of reassurance.
Quick-fire questions
Name three qualities that make a great plumber: A sense of humour is essential! But I think being adaptable and good at problem solving always helps.
Best way to unwind after a hard day's work? In the summer my favourite way of unwinding is to get out on the water on my paddleboard. The gym is also always good to destress at the end of a busy day.
Favourite winter warmer drink? Coffee. I drink far too much!
Fish and chips or curry? Fish and chips. Preferably with curry sauce!
Plastic pipe or copper pipe? Copper, there are times when I do use plastic, but in the main I served my apprenticeship under an 'old school' plumber who instilled in me that good workmanship in copper is an essential skill.
Early bird or night owl? Somewhere in-between, I don't seem to get as much sleep as I'd like.
Twitter or Facebook? Although I do have both, I tend not to use either that much.
Pipework or paperwork? Pipework, always! My wife is in the office and does the lion's share of the paperwork.
Pipe wrench v spanner? Adjustable spanner!
_____________________________________________________________________
Click here for more information on getting homes ready for winter, including how to find your stop tap and insulating pipes.