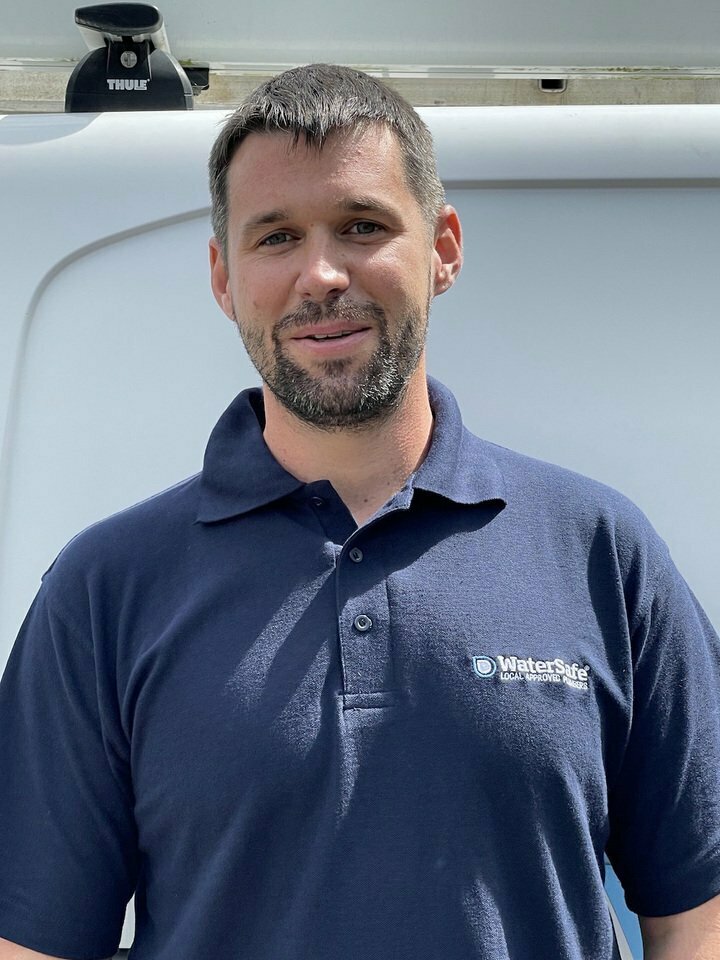 Meet WaterSafe approved plumber Dave Turnbull, one of the stars of our latest recruitment film, which highlights the many benefits of WaterSafe membership to qualified, approved plumbers in England.
________________________________________________
What got you started in the plumbing industry?
I was made redundant around 13 years ago and was inspired by my brother Mike, who's a plumber – I took to it like a duck to water.
Please tell us about your business
I started the business, Fareham Plumbing & Heating Ltd, three years ago with my brother. We do anything from big jobs like industrial pipework; restorations; refurbs and extensions to smaller domestic jobs. I like variety otherwise I get bored – variety is the spice of life!
As well as plumbing and heating we work with gas/LPG and renewables – I love it all.
How do you find working with your brother in a family business?
We don't always work together but of course we lock horns sometimes – we're brothers – but we really respect and appreciate each other's knowledge and skills. Our business is stronger for the both of us.
Describe a typical day in your working life
There's no such thing! Every day is different – I usually have an early start and then it's pretty manic from there.
What's the best bit of the job for you?
I get to travel and meet really interesting people every day – it's good for my head. I also love learning new things – the theory and physics of plumbing is so interesting to me. I love how every day is different.
How has Covid-19 affected your business?
We did notice a drop in our turnover at the beginning but what we lost in domestic work we quickly gained in work pipefitting for industrial companies that were making masks and Covid tests. Once things opened up for domestic work we were busy doing projects for homeowners who had money saved they would have otherwise have used for holidays.
What's the job you're most proud of?
I'm proud of every job – especially if it has come from a recommendation. It feels good to be able to help in an emergency – and to keep calm under pressure so I can do my job effectively and help keep my customers feeling safe and reassured.
Can you bust a popular myth about plumbing/plumbers?
That plumbers are bad timekeepers! I'm very punctual and have only been late three times in my career. I pride myself on my timekeeping.
Do you have any advice for young people entering the industry?
When you're learning don't be afraid to ask questions – there's nothing wrong with not knowing the answers. Asking questions is the best way to learn.
What does being a member of WaterSafe mean to you?
It means a lot. There are a lot of unqualified people out there that shouldn't be working with drinking water.
We have top-quality tap water in the UK, but there needs to be more awareness about the health risks if unqualified plumbers work on drinking water supply pipes.
Water is life! It's very, very important to know about the regulations that help protect drinking water in homes and businesses – which all WaterSafe approved plumbers are trained in.
In my career I've notice more awareness in the importance of the water regulations from those in charge of public-use buildings such as dentists and hospitals – but not so much awareness from homeowners, so it's great to get the word out.
What was it like being part of the WaterSafe recruitment film?
I'm not one for the spotlight – and no one likes to hear the sound of their own voice! But I have a real sense of pride from taking part and helping to encourage qualified, approved plumbers to sign up to WaterSafe.
What are your plans for the future?
Carry on and see what happens – just enjoy the now.
Quick-fire questions
Name three qualities that make a great plumber: Patience/Responsive/Logical
Best way to unwind after a hard day's work? Cold beer
Tea or coffee? Coffee
Fish and chips or curry? Curry
Plastic pipe or copper pipe? Depends!
Early bird or night owl? Both!
Twitter or Facebook? Facebook
Self-employed or part of a team? I'm a big team player
Pipework or paperwork? Pipework of course
Pipe wrench v spanner? Spanner
___________________________________________________________________
Want to know more about WaterSafe membership? Click here for information on how you can sign up at no extra cost if you belong to an Approved Contractors' Scheme.